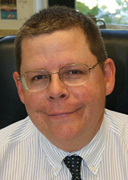 Roby Blust, dean of undergraduate admissions and enrollment planning, became the fifth member to leave Marquette's Leadership Council since former Provost John Pauly's resignation in May, a university news brief announced Thursday.
Blust, who started working in the Office of Admissions when he arrived in 1997, will leave the university effective June 1 to become vice president for enrollment at Regis University in Denver. Jean Burke, associate dean of undergraduate admissions, will step in as interim dean of undergraduate admissions and enrollment planning once Blust leaves.
"While we all wish Roby could stay at Marquette, I'm not surprised that Regis recognized Roby's talents and leadership," said Margaret Callahan, interim provost and dean of the College of Nursing, in the news brief. "We all wish him well as he pursues this new opportunity, which will allow him to be closer to his daughter in Denver."
Blust was promoted to dean of admissions in 2000 after previously serving as director of admissions. He also served as director of admissions at Loyola University Chicago, director of admissions at Regis University in Denver, director of admissions at Edgewood College in Madison, and assistant dean of admissions at Saint Louis University. Regis President John P. Fitzgibbons, also previously served in Marquette's Office of the Provost.
Blust announced his decision to leave the university Thursday morning, four months after Larry Williams, former vice president and director of athletics, announced his resignation in search of leadership opportunities outside Marquette.
Earlier this year the departure of former University President the Rev. Scott Pilarz's was announced to the university via email Sept. 20., which was followed by the resignation of Mary DiStanislao, who served as executive vice president from March 2012 to October of last year.
Brian Dorrington, senior director of university communication, said these departures have not made it difficult for university leaders to carry out the school's mission or daily operations.
"Collectively as a university, we're working on a strategic enrollment plan," Dorrington said. "Between that strategy and the 20 or so tremendous people on the leadership council, we have confidence we can move forward."
Blust's announcement also comes a week after the university declared that it will develop a campuswide diversity plan in response to weaknesses identified by an accreditation team from the Higher Learning Commission that visited Marquette in October. The plan will include implementing a "bias incident reporting and response system," according to a news brief. Dorrington said university leaders are confident the diversity plan in terms of enrollment may be implemented despite losing Blust.
"We've got a good team and an experienced team," he said. "Jean Burke has more than 27 years of experience working in Jesuit universities."
The Tribune reported in August that Marquette recently saw a substantial jump in enrollment of ethnic minorities. In 2008, ethnic minorities took up about 15 percent of the incoming freshman population. The freshmen entering Marquette this fall is about 25 percent ethnic minority.
Dorrington also said there is no timetable to fill the position left by Blust and the other vacant positions, but that a plan to do so will be developed in the coming weeks.
"Certainly, when there are key leadership positions, it is helpful to have a president in the process," Dorrington said. "But we have a tremendous team of leaders here."