Music and fashion with Reelo and Spazz of A.S.A
Local Marquettestudent Julio Pallarez and his hometown friend Ryan Lara also known as Spazz and Reelo, are a rap duo based out of Chicago. The pair joined forces after remedial solo acts to create what is now known as A.S.A (Always Something Awesome). Not only have these two made waves on music blogs both locally and internationally, but they also have been releasing dope music via their website, but also through their respective social media platforms. Part of what sets this duo apart from other local rappers is the way they incorporate fashion into their music. There style is a mix between Chicago and California that infuses a big street wear influence. I sat down with the duo to talk music, life and most importantly, fashion.
Marquette Wire: Where do you get yourfashion inspiration from?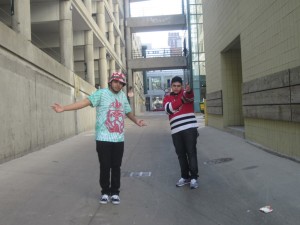 A.S.A: To be honest, there are a lot of different things we get our fashion inspiration from. What we do is take different styles that we like and see on a daily basis and we add our own little twist to them. We mix all of this together, and make them one idea or style which makes it much more different. Anything from high end designer brands, that we cop at discount prices [Laughs], to street wear brands that we find at local boutiques in Chicago and in Milwaukee; it's basically how you present it.
M. W: Do you think your music influences your fashion or vice versa?
A.S.A: We're a firm believer that music influences our fashion sense because of that fact that the music we make makes us feel "cool" and gives us the confidence to wear what we want, how we want, and not care if it looks funny. We hink it kind of gives off the perception that we're cool dudes [Laughs].
M.W: If your music blew up to international fame, what fashion related project would you like to take on or participate in, whether it be modeling, designing or contributing?
A.S.A: If our music blew up to international fame it would be awesome to start our own clothing line with my homies. They are all very into fashion and have some great ideas that can't really be duplicated. I feel once we have this brand established, it will happen, it will sell, and it will be something new and innovative.
M.W: How would you define your personal style and how does it tie into your music?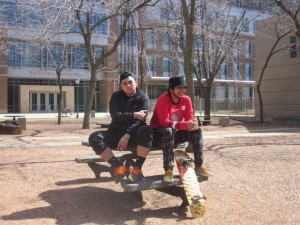 Ryan: If I could define my style I would define it as random, classy, and cool at the same time. I  say this because I really like wearing very random shirts, that's my s*** [Laughs]. Although I like wearing random shirts and all, I always have to have some nice denim, and keep it classy with accessories such as my small gold hoop earrings, my gold Casio, or a nice black matte sports watch. The music I make and my style correlate very well. They sort of complement each other and make sense with one another. I would say I  feel my style ties into my music by giving me the funk to do what I want, how I want, thus giving me my own personality and look.
Julio: I would say that my personal style ties into my music a lot, I mean although a lot of people probably don't know, rock is my favorite genre and that translates to how I express myself in my clothing. I like that whole punk rock grunge, I don't give a s*** look [Laughs] because I think that's how fashion should be: wear what you want without caring what others think. At the same time I mix it up with street wear and other designer brands because I like being all over the place."Flashy" clothes are cool to me, but not necessarily expensive clothes. I just like things that stand out, tie dye and crazy logos and things like that. This "all over the place" style of clothing is exactly how I would define our music. It is about whatever is inspiring me in the moment. That's where the tunes come from and thus the inspiration. This is very much the same when it comes to my fashion sense.
Don't forget to look out for upcoming projects from these two on their website awesomeisasa.com as well as updates from their respective twitter accounts. Follow Julio on twitter @Spazz_ASA and Ryan @Reelotherapper. Big things are in store for this rap duo so don't miss out on their incredible journey!