KILLIAN: Who can MU fans root for in the NCAA?
For Marquette fans still recovering from the pain of Selection Sunday, the rest of the week will feel pretty awkward. This student body has truly been set apart, as it faces a low not experienced in more than 10 years.
Watching Wisconsin fans invade Milwaukee to cheer on the Badgers in the NCAA Second Round only further dampens the melancholy Marquette aficionados' spirits.
The Golden Eagles' postseason absence leaves a sizable void, but it can be filled with the tourney's plentiful variety of teams, storylines and bandwagons to climb on. So who can Marquette fans pull for once the Madness fully begins?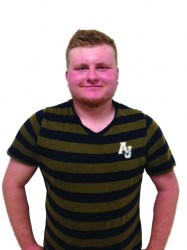 Anyone who plays Wisconsin and attempts to keep Bo Ryan's squad from that elusive deep NCAA run is a start. As a two-seed, the Badgers look ready to break the mold this season, but they have plenty of room to fail.
Wisconsin should handle American University in Thursday's early matchup, but the Eagles boast a top-10 scoring defense that could disrupt the Badger's shooting rhythm. The chances of an early exit for Bucky increase in the third round against either Oregon or BYU, but an upset loss in front of a very red Bradley Center seems unlikely. It's always fun to hope, however.
Pulling for fellow conference teams to succeed is another possibility.
Realignment has called the power of the new Big East into question, but having a team like Villanova or Creighton reach the Final Four would do big things for the conference's perceived legitimacy. It'd also make Marquette's losses to the Wildcats and Bluejays look a lot better.
"Dougie McBuckets" will be fun to watch on his own if he continues to put on grand scoring shows on the biggest stage. Xavier already disappointed with a loss in the First Four against NC State, but there's still the potential for Providence to ride its Big East title momentum to an upset of the Tar Heels in the second round. Good showings all around would leave the Big East with a solid case against its skeptics, and have an effect on Marquette's chances of being selected next year.
As other storylines go, just pick one.
There's Wichita State hoping to prove its salt in the face of what could be considered a "region of death" in the Midwest. The top-seeded Shockers would receive high praise if they simply repeated last season's run, but advancing and even winning the title game would forever change the way the NCAA views mid-majors. The best stories have yet to unfold, as undoubtedly someone will pull off that head-turning upset and become 2014's Cinderella. When that happens Marquette fans can join the rest of the nation in cheering an underdog without the fear of losing to it at some point.