NCAA Tournament a win for MKE businesses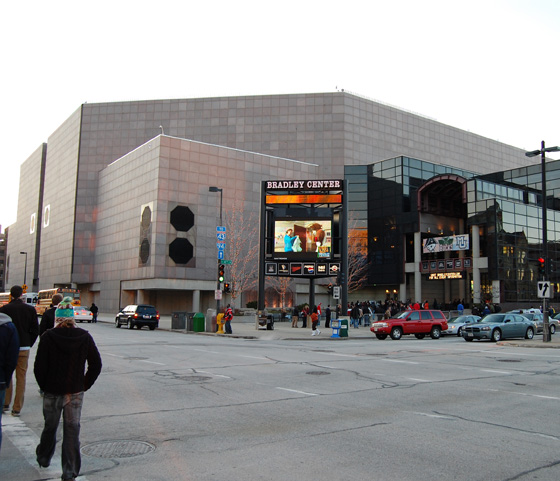 While Marquette might not have taken part in the NCAA Tournament, the city of Milwaukee came out as a big winner.
The NCAA Tournament brought eight teams from all over the country to compete at the BMO Harris Bradley Center this past weekend. Though the Wisconsin Badgers and Michigan Wolverines were the only ones to move on to the Sweet Sixteen, local businesses and bars benefited from both the winning and losing teams.
Robert Koch, the general manager of the Turner Hall Ballroom, said that while he could not give exact sales figures, Turner Hall had a prosperous weekend.
"We met and exceeded all expectations for the NCAA Tournament," Koch said.
Turner Hall is conveniently located across the street from the BMO Harris Bradley Center, and Koch said the restaurant did not do anything special to attract customers.
"With our proximity to the BMO Harris Bradley Center, the only thing we did was hang up a banner that said 'hot food, cold beer,'" Koch said. "The walk across the street did all the work for us and it was a very well received and very gracious crowd."
Lucille's Piano Bar & Grill, another bar near the arena, also opened its doors during the week of the tournament to join the festivities.
"We opened up early," Lucille's general manager Christine Lamay said. "We normally are just a night-time bar, but we opened up during the day and served lunch."
In terms of sales, Lamay couldn't give out figures either, but she said Lucille's turnout was about what was expected.
"We expected to do quite well in our sales because we are so close," Lamay said. "So as far as exceeding expectations, I would say no because we expected it."
In a March 15 story by FOX6, Marquette economics professor Adbur Chowdhury estimated the downtown area could generate about $5 to $6 million in revenue during the three-day period. Madison sticking around for the entire weekend did not hurt either, as fans visited local pubs throughout the tournament.
Koch said the Friday between the two game days was the busiest day of the weekend for Turner Hall, but he added the time before and during the Badgers' game was when the bar was swamped the most. But basketball-related business is nothing unusual for the bar.
"When Marquette has a Thursday and a Saturday game, you'll get the same kind of volume," Koch said.
Milwaukee hosted six NCAA Tournament games that were divided into three sessions. The official attendances show more than 50,000 fans attended the three tournament sessions.
Marquette's Athletics Department did not return requests for this story.
Leave a Comment