Koeck concludes at indoor nationals, MU starts outdoors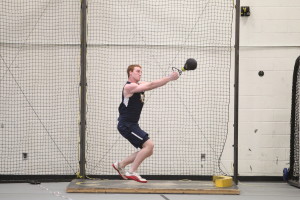 Junior William Koeck completed his indoor season by finishing 15th in the men's weight throw at the NCAA Indoor Track & Field Championships Friday in Albuquerque, N.M. Koeck was the first Marquette athlete to compete at Indoor Nationals since 2006.
Koeck's toss of 62 feet, 5.25 inches was disappointing, as he scratched on his final two throws.
The rest of the track and field athletes competed in their first outdoor meet Thursday and Friday at the South Florida Open in Tampa, Fla., and won three individual field titles.
Freshman John Krzyszkowski set a school record and won the men's javelin with a throw of 193 feet, 6 inches, and junior Samantha Kennedy won the women's hammer throw with a toss of 181 feet.
Senior Kristen Gaffey won the women's shot put with a put of 43 feet, 8.5 inches, while classmate Kirsten Walker placed fourth with a distance of 42 feet, 1.25 inches. Gaffey also took third in the women's discus throw with a distance of 135 feet, 5 inches.
Freshman Omo Tseumah finished second in the women's high jump with a height of 5 feet, 8 inches, while senior Michael Saindon placed second in the men's high jump with a jump of 6 feet, 8 inches.
Three more freshmen also had noteworthy finishes. Dwayne Dash took third in the men's long jump with a distance of 22 feet, 10.5 inches. Anna Strong placed fourth in the women's 400 meter run with a personal-best of 56.31 seconds while Joel Swanberg finished fourth in the men's pole vault with a height of 15 feet, 7 inches.
The Golden Eagles' next meet being March 28 at the Oliver Nikoloff Invitational in Cincinnati.
Leave a Comment