Marquette track and field have historic day at Madison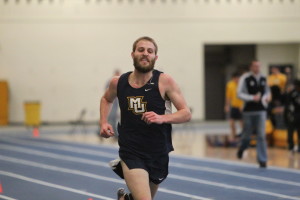 Five Marquette track and field athletes took home individual titles at Saturday's Wisconsin Elite Invitational in Madison.
Marquette dominated the 1,000 meter run, with the men's and women's teams placing multiple racers in the top three. For the women, Alison Parker set a Marquette freshman record with her victory time of 2:54.45. Sophomore Kayla Spencer placed third, finishing with a time of 2:55.35. Junior David Sajdak won the men's race with a close finish, establishing a personal record of 2:32.19, while classmate Brendan Franz placed third at 2:33.24.
Continuing the middle distance success, sophomore William Hennessy convincingly won the men's mile with a personal best of 4:22.05, and sophomore Anton Rice won a highly competitive men's 800 meter run in 1:56.03. Sophomore Nicole Ethier took second in the women's 800 meter run with a time of 2:15.70.
For the long distance events, junior Elisia Meyle placed second in the women's 5,000 meter run with a time of 17:40.69, and freshman Brittney Feivor took third at 17:44.72. Senior Spencer Agnew took third in the men's 3,000 meter run with a time of 8:29.42.
Marquette's women's team performed well in the sprint events with multiple top finishes. Senior Katie Kemmerer won the women's 200 meter dash at 25.72. Kemmerer placed second in the 400 meter dash with a time of 58.06, and freshman Anna Strong finished third in 58.90.
Senior Carlye Schuh, last week's Big East Women's Field Athlete of the Week, took second in the women's long jump with a jump just more than 19 feet and also placed fifth in the 60 meter dash with a personal best 7.77.
Bret Hardin, the reigning Big East Conference Men's Field Athlete of the Week, had a disappointing third place finish in the weight throw with a top distance of 60-feet-11.5-inches.
Freshman Omo Tseumah continued her strong start and placed second in the women's high jump with a height of 5-feet 7.75-inches, and fellow freshman Bridget Bodee placed fifth with a height of 5-feet-5.25-inches. Both jumps are in the top-10 in program history.
Marquette's next meet is Saturday, Feb. 1 at the Jack Jennett Invitational hosted by Northern Iowa in Cedar Falls, Iowa.
Leave a Comment