Track athletes get final tune-up at GVSU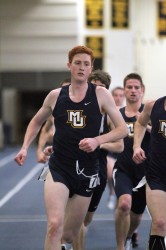 The men's and women's track and field teams set many personal records while competing in the Grand Valley State University Big Meet Friday in Allendale, Mich. This was the final competition before the Big East Indoor Championships in New York City this weekend.
Along with the abundant personal records, many of Marquette's top finishers were underclassmen. Both teams finished eighth in the team standings, with the women accumulating nine points and the men amassing eight.
Senior Spencer Agnew had the best individual race for the Golden Eagles. Agnew finished second in the men's mile run with a personal best time of 4:05.38, good enough for the third best-time in program history.
In the women's mile, sophomore Kayla Spencer claimed sixth place with a personal record of 4:51.91, while fellow sophomore Kellie Greenwood also ran her best time and placed 14th in 4:57.16.
Marquette had some significant finishes from some younger athletes in the field events. Sophomore Tatyana Pashibin finished third in the women's high jump with a height of 5-feet, 5-inches, and sophomore Jordan Smith was sixth in the men's long jump with a leap of 19-feet, 8-inches.
Additionally, freshman Joel Swanberg took ninth in men's pole vault with a career-best vault of 14-feet, 10-inches, while sophomore Vinny Martello placed 11th with a height of 13-feet, 10-inches.
In the middle distance area, redshirt freshman Michael Corr set a personal record and placed 12th in the men's 600 meter run with a time of 1:23.07. Junior Brendan Franz recorded a personal best time and took 18th in the men's 800 meter run in 1:54.09.
Both teams return to action Friday and Saturday at the Big East Indoor Championships.
Leave a Comment