Former Campus Dollar location still vacant more than two years later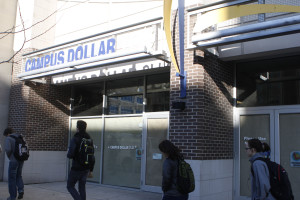 Campus Dollar Plus closed at the 1616 W. Wisconsin Ave. location in 2011, but the university is still searching for a retailer to fill the 4,000 square-foot vacancy more than two years later.
Jenny Alexander, director of the purchasing staff, said Marquette is still speaking with prospective tenants.
"We are in initial discussions with potential retailers and it is our policy not to disclose any details until a formal partnership is agreed upon and a timeline is set," Alexander said in an email. "We look for potential partners who provide quality and needed goods and services to our students and our community."
Alexander added that her staff does not have a target date in place, but the university is trying to find a tenant in a timely manner.
Thomas Schick, a junior in the College of Arts and Sciences and Marquette Student Government off-campus senator, said has an active role in trying to find suitable vendors for the space.
"The space where the now-defunct Campus Dollar was has been a point of discussion around MUSG since the business closed," Schick said in an email. "Senators, including myself, who serve on the Off-Campus Caucus have brainstormed vendors with administrators based on pure outreach efforts regarding the issue."
Pita Brothers, a popular local food truck, was interested in purchasing part of the location in 2012, but Marquette would not let them split the vacancy.
Schick said he is not sure who the university will select, but he hopes the decision is made before the semester ends.
"Personally, I don't have a strong preference," he said, "but I hope the business can open soon so that it can begin to carve out its place on campus and become known to students."
The Ivy on Fourteenth apartment development is also still searching for tenants to join Subway as an occupant on the first floor of the building. Elizabeth Hummitzsch, a spokesperson for the Opus Group, said no agreements were reached, and Opus is still seeking out potential occupants.
The Tribune reported in November that Redeemer Lutheran Church approached the university about bringing a grocery store to Marquette's campus. The closest supermarket is a Pick n' Save store, which is about two miles from campus.
Leave a Comment