EDITORIAL: Students hungry for sensible, diverse use of campus space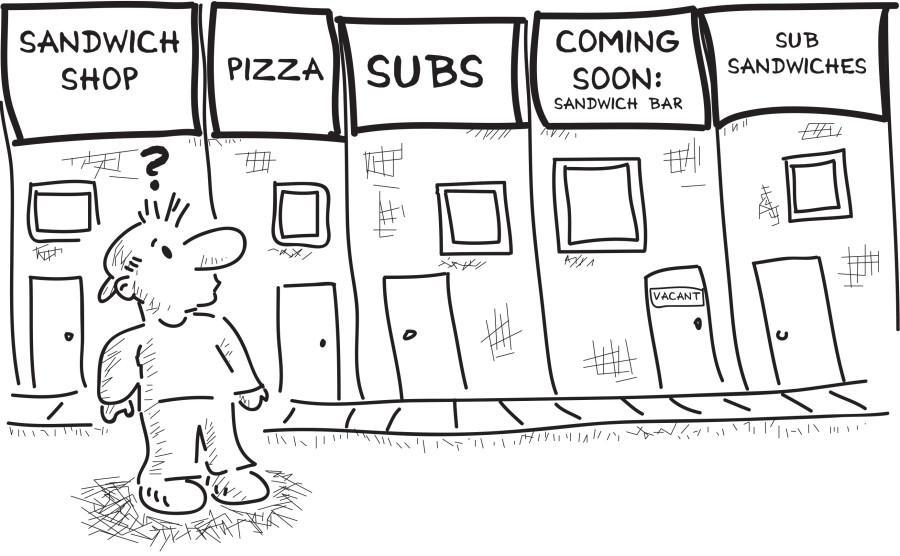 Campus Dollar Plus, located at 1616 W. Wisconsin Ave., closed more than a year ago, but nothing has taken its place. The Tribune reported in December that Pita Brothers had expressed interest in the location early last year and could not work out an agreement. To our knowledge, no other tenants have since made a serious push, leaving students to wonder what could possibly come.
We hope the university and local businesses involved in these decisions seek to provide a resourceful locale for students on campus rather than merely add to the same sorts of offerings that already exist.
This hope is not to say that existing establishments – such as Marquette Gyros, Real Chili, Dogg Haus and others – are useless to students or that they are viewed as such. Their success is proof to the contrary. These businesses are successful, however, largely because they are the only options on campus. The offerings around Marquette's campus feature redundancies that often have students yearning for variety, and vacant spaces – such as the former Campus Dollar Plus building – are inevitably seen as glimmers of hope that something new will appear on campus.
The availability of food sources, both through restaurants and grocery stores, is at the core of the complaints we have heard expressed by fellow students. Right now, in addition to the rather greasy food options on Wells Street, nearby restaurants include a handful of pizza choices and four sub sandwich restaurants all located in a span of about half a mile. This is far from variety – unless we take into serious account the different breads at Jimmy John's, Subway, Cousins Subs and New York City Subs.
For groceries, most upperclassmen try to make trips to Pick 'n Save, but those looking for food on campus are left with Walgreens and 7-Eleven. We understand the reasons a grocery store would face difficulties on campus, as business would likely suffer during the summer months, but we also recognize the legitimate problems resulting in an absence of such a store, as it makes healthy and affordable eating much more difficult, especially for students without access to a car and for those with specific nutritional needs. We hope both student and business needs can be met if student input is taken into consideration in future decisions.
Some students recently expressed concern about the potential loss of Sweeney's College Books when Opus Development Corp. proposed a six-story apartment building at 1400 W. Wells Street, the current location of Sweeney's, Subway and Kampus Foods.
When the university deliberates about bringing new businesses to campus, its leaders should consider an example like Sweeney's, which has proven so useful to students that it is now a campus staple. Students will continue to spend money at restaurants and convenience stores around campus, but it is out of a lack of variety. The vacant space left by Campus Dollar Plus – which has been vacant for far too long ­– is one example of an opportunity for something truly innovative and effective. Those responsible for making such decisions should gather student input before all else, as common sense would dictate that financial success would follow. Even if the suggestions are not entirely, initially feasible, a fifth sub shop wouldn't be either.
Leave a Comment