University President Michael Lovell, along with Milwaukee Mayor Tom Barrett, Alderman Robert Bauman and the Balistreri family of Sendik's Food Market participated in a ribbon cutting ceremony for the new Sendik's store that opened on campus yesterday.
The project of opening a grocery store on campus has been long in the works, and Lovell has been talking about it for years.
"At my last year presidential address, I announced the university was going to try to take on the grocery store project on our own," Lovell said.
Two days later, Ted Balistreri, owner of the family-run grocery store, reached out to Lovell and said Sendik's wanted to be a part of the project.
"It was the decision of the Balistreri family to be part of this community, and that speaks volumes," said Barrett. "We're undergoing a renaissance in Milwaukee, and this and the other Marquette projects exemplifies that."
Keith Stanley, executive director of Near West Side Partners, said opening a grocery store is a huge step toward improving the area. "A store like this allows people to get their basic nutritional needs met without traveling far away," Stanley said.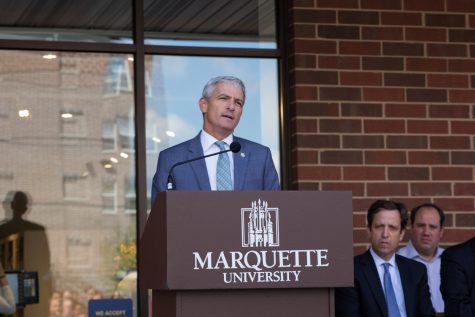 Before this Sendik's location, there were no grocery stores with fresh food available on campus. Students like Janice Yong, a senior in the College of Communication, are excited for the fresh food options that the store will provide.
Sendik's also hired a number of student employees, such as Mara Garron, a sophomore in the College of Business Administration. She works as a cashier and is excited to see the new store open to the public.

"I think this will be really great because it will be so convenient for students to get groceries during the school year," Garron said.
After Margaret Balestreri cut the ribbon at the ceremony, the family got the chance to bless the new store with holy water.
This is the 19th Sendik's store to be opened in Wisconsin, and the fifth this year.