Marquette knocks off Creighton on Morse's game-winning three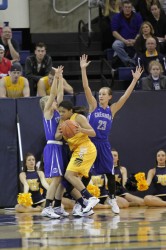 A proper send off would be an understatement for senior Katherine Plouffe's performance against the Creighton Bluejays Saturday afternoon. Plouffe matched a career high with 33 points on 13-of-20 shooting in her final regular season home game, but she wasn't even the hero when it was all said and done.
Coach Terri Mitchell said Saturday's 73-71 win was an excellent way to cap off the careers of her three seniors: Plouffe, Courtney Thomas and Katie Young.
"I don't think you could find a better way to end our seniors' career at home," Mitchell said. "The battle we had with Creighton was incredible."
"It was pretty good," Plouffe said of her performance. "I think the emotion of it that everyone wanted to fight to get this win, not only for senior night, but to prove to people that we are at the top of the conference."
After Creighton's Marissa Janning hit a pair of free throws to put the Bluejays up 71-70, junior Arelesia Morse took a pass from freshman Brooklyn Pumroy directly in front of Marquette's bench and sank the eventual game-winning three-pointer with 12.8 seconds remaining on the clock.
"Arlesia has been known to hit a three in her days, so we appreciate it nevertheless," Young said. "She came through for us and she always has."
In addition to Plouffe's 33 points, Morse added 14, six of which came in the final minute. Pumroy scored nine points with 12 assists and five rebounds. The trio scored 37 of Marquette's 40 points in the second half.
Young struggled from the floor in her final game at the Al, scoring only three points on one-of-11 shooting, but she did pull down eight rebounds in 28 minutes.
"I'm thinking to myself, 'how can I impact the game besides scoring,'" Young said. "Everything's not going to go your way, but we got a win and I don't need to score 20 points. As long as we won I'm happy."
Despite Young's offensive struggles, Mitchell knew having her experienced senior in the ball game gave her team the best chance of winning.
"Young has given so much this season and I think to have her on the bench would not make sense, in my mind," Mitchell said. "Senior Day is emotional. It was an emotional game for her and she had a hard time with her shots, but she did a lot of other things."
The victory is Marquette's 20th of the season, which is the first time the Golden Eagles won 20 games since the 2010-11 season. It also gets the Golden Eagles to 11-6 in the Big East, with a chance to play itself into the top-3 with a win over the Villanova Wildcats Tuesday night.
Despite earning wins against the three best teams in the Big East, Plouffe believes her team is still flying under the radar.
"We're underrated and we're fighters," Plouffe said. "People aren't expecting us to win the conference tournament and that's what we're going to do. People aren't going to believe it, but if we do it, don't be surprised."
Leave a Comment