Sebastian Kawas followed in the footsteps of his dad and uncle by becoming a Marquette student-athlete, but he pursued it his own way.
The first-year is a golf team member, while his dad, Christian, and uncle, Ian, were both a part of the men's tennis team. Christian played from 1981 to '85, and Ian played from 2002 to '06.
Sebastian was first introduced to golf by Christian, who wanted to stay competitive after his tennis career.
"I needed something to keep my competitive juices flowing after I wasn't playing tennis at a high level anymore," Christian said. "When Seb started showing interest and playing, we were in uncharted waters because I didn't know much about golf, and I wanted to do what I could so his love for the game could grow."
Sebastian said his father's growing love for golf was contagious, and he picked up on it, too.
"Since my dad became a golfer, I wanted to be like him," Sebastian said. "I didn't see my dad as a tennis player; I saw him as a golfer."
For Sebastian, it started with as little as nine holes at a time, and he said growing his love for the game first made it even easier for him to keep his obsession.
"When I would play nine with my dad, he never pushed me super hard to grind at a young age; he just wanted me to have fun," Sebastian said. "I took small steps, and my dad helped me understand how to grow my mentality right away because he knew what it took to be an athlete."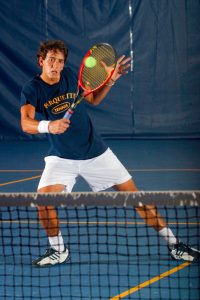 Ian said that golf coming into the picture for Sebastian changed his childhood.
"I don't think he traveled without a golf club very often," Ian said. "That's something he would mention every time he would have a family trip. They would find places for him and his dad to play."
Ian said the similarities between the father and son duo regarding their respective sports were uncanny.
"He [Sebastian] was always obsessed by it, which is something that his father had with tennis," Ian said. "You could tell that they have a lot of similarities when it comes to how obsessive they were. There was not a day in his life where he wasn't talking to somebody about golf."
Sebastian's obsession led to his desire to play at the collegiate level, and the stories his family shared with him about their student-athlete experience helped fuel the fire that was starting to kindle. He said he wanted to create the lasting bonds he had heard about from his family.
"My dad always told me that college sports was the best experience," Sebastian said. "I always knew I wanted to play in college in the back of my mind, and then when I started playing in high school, I really fell in love with the idea.
"I loved playing in high school because of the team and the great guys I played with. That's when I knew I really wanted to do this again in college."
When it came time for Sebastian to think about college, Marquette was in the picture, but not because of his relatives.
"I wanted Seb to do his own thing, chart his own path," Christian said.
When Ian heard from former golfers what head coach Steve Bailey was doing with the program, they looked into Marquette.
Christian said that once Sebastian saw Marquette, he zeroed in on it being his future home.
"When Seb took visits to other schools, it was certain Marquette was his choice," Christian said. "Spending time with some of the guys and Coach Bailey made him 100% certain of what he wanted."
Sebastian said that after one meeting with Bailey, he knew he would fit on his roster.
"He gave it to me straight and told me what he wanted of me," Sebastian said. "The more he went on about it, I grew happier because I knew I was the guy for him."
Sebastian said that his hopes of what the student-athlete experience would be like have come to fruition.
"I love this school," Sebastian said. "So far, I feel like everything has gone well because I support myself with people as good as the golf team. I heard great things about Marquette from my dad and uncle and knowing how those things waiting for me here have played out, it makes me even more confident that I am in the right place."
This story was written by Trevor Hilson. He can be reached at [email protected] or @hilsontrevor on Twitter/X.