Marquette continues winning streak, defeating another No. 6 ranked team
Since its upset win over then-No. 6 Baylor Nov. 29, the Marquette men's basketball team (14-4, 6-1 Big East) has won seven of its last nine games entering Wednesday night.
There have been tests for the Golden Eagles, who re-entered the Associated Press Top 25 at this past week, since but not one like Wednesday night's.
Marquette's young core withstood arguably its toughest of its season, defeating No. 6 UConn (15-3, 4-3) 82-76 in dramatic fashion at Fiserv Forum.
"I've only been in the Big East for a year and a half but that was a heck of a Big East basketball game," Marquette head coach Shaka Smart said. "It's something special in this league when basketball means so much to both programs like it does to UConn and to Marquette."
It's the first win for the Golden Eagles over the Huskies since UConn rejoined the Big East ahead of the 2020-21 season.
Additionally, it's the third top-10 victory for Marquette under Smart, with Baylor and then-No. 10 Illinois last season.
Statistical leaders
Junior forward Oso Ighodaro led the way for Marquette with 19 points, three rebounds, three assists, two assists and two steals. He was 5-for-5 from the charity stripe, a career-best for him.
Two other Golden Eagles finished in double-figures: junior forward Olivier-Maxence Prosper added 17 points on 5-for-8 shooting from the field and sophomore guard Kam Jones chipped in 15.
First-year center Donovan Clingan led UConn with 20 points on an efficient 8-for-11 shooting from the floor, 10 rebounds and five blocks, his fourth double-double of the season.
Special Agent Oso
Ighodaro has become a weapon for the Golden Eagles this season with his ability to pass and playmaking abilities. It causes trouble for an opponents defense night in and night out.
"He's like the modern day big man," Hurley said. "That guy is going to be a draft pick or at least I know he is going to play in the NBA for a long time because his ability to pass, face up and they set ball screens for him. Shaka deploys him really in a smart way. There's a lot of great setters in college but he's unique."
Perhaps the play of the night came from Ighodaro as well.
Holy Oso #mubb pic.twitter.com/G1wFz6GLWw

— John Leuzzi (@JohnLeuzziMU) January 12, 2023
Up by three with 11:04 to go in the second half, the 6-foot-9 forward pulled down an alley-oop pass from Kam Jones for the dunk over Clingian.
"Kam does a really lobbing it up to me," Ighodaro said. "(He) does a great job putting in the spot where I can go get it. And I just went and got it."
Momentum shifts
In a tense, physical and old school Big East style type of basketball game, Marquette's defense made its presence felt from the get go as it caused three turnovers in the first four minutes and 33 seconds of the game.
The Golden Eagles forced 16 turnovers on the night. It's tied for the third most turnovers UConn has had this season.
Clingan made his presence felt inside the paint for the Huskies at the midway point of the half when he sparked a 14-0 run with a dunk that forced Smart to call a timeout as UConn jumped out to a 31-20 lead.
The 7-foot-2 forward had six points, three rebounds and two blocks during that stretch for UConn.
"He's like (Purdue center) Zach Edey all over again," Smart said.
Marquette delivered with a run of its own down the stretch. First-year guard Chase Ross slammed a fast break dunk to cap off a 9-0 run to bring Marquette within two, 31-29.
"Our guys really had to respond when UConn punched us in the mouth early when they went on that run mid first-half and took an 11-point lead," Smart said.
First-year guard Sean Jones hit a fadeaway mid-range jumper at the buzzer to send the Golden Eagles into the locker room down 37-33.
Jones finished with seven points, two steals and two assists in the first half.
"Thought Sean Jones was by far for us the MVP of the first half," Smart said. "He played with reckless abandon but also played under control, made great plays, made a big three and his defensive intensity changed the game as well."
Erasing yet another deficit
It's become a trend over the last four games that Smart's squad has been able to overcome deficits by flipping the switch in the second half.
It was an 11-point deficit that the Golden Eagles erased behind outscoring the Huskies 49-39 in the second half.
The Golden Eagles got out to a fast 11-2 start in the half hitting, five of their first seven shots from the floor. Jones hit a 3-pointer in the corner to even the score at 42-42.
"Can't say enough about their sense of urgency and willingness to go after (and) doing what we had to do to get stops," Smart said of how his team came out to begin the half.
As Marquette continued to ramp up its offense in the half, so did the noise inside arena.
"It's a big time atmosphere in here, no prompting needed," UConn head coach Dan Hurley said. "This crowd definitely was a factor when we were unraveling."
The crowd noise reached another decimal after Prosper slammed a dunk to put Marquette up 69-62 with 4:33 to go, forcing Hurley to call another timeout.
UConn sophomore guard Jordan Hawkins hit a 3-pointer to bring the Huskies with five at 73-68 but Kam Jones put the Huskies comeback to rest with a triple of his own.
Next up
Marquette will head back on the road for a Sunday matinee matchup against No. 14 Xavier (14-3, 6-0) at the Cintas Center. Tip-off is set for 11 a.m. CST and will be streamed on FOX.
This article was written by John Leuzzi. He can be reached at [email protected] or on Twitter @JohnLeuzziMU. 
Leave a Comment
About the Contributor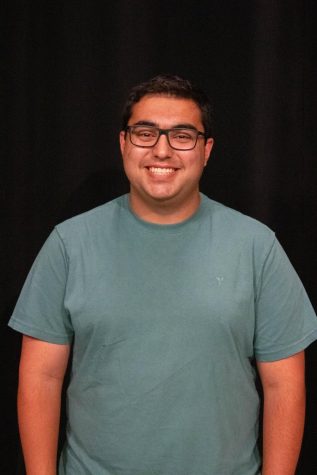 John Leuzzi, Executive Sports Editor
John Leuzzi is the Executive Sports Editor for the Marquette Wire. He is a senior from Mount Laurel, New Jersey, majoring in journalism and minoring in...