PREVIEW: Marquette to conclude three-game road trip against No. 25 Creighton
After snapping its three-game losing streak with a 72-63 win against DePaul at Wintrust Arena, Marquette women's basketball will conclude its three-game road trip in Omaha, Nebraska in a match-up against No. 25 Creighton.
Junior forward, Liza Karlen, was sidelined in the game against DePaul due to an undisclosed injury. There is no mentioned time of her return to the court and it is unknown whether she will be available for Sunday's contest.
The starting five against DePaul was Marquette's fifth unique line-up. Senior forward Kennedi Myles made her first start of the season in replace of Karlen.
Despite Karlen being out, Marquette showcased offensive dominance sparked by senior guard Jordan King which led to the Golden Eagles scoring its highest first-quarter performance of the season.
King finished the night with a team-high of 23 points plus nine assists to tie her personal best in single-game assists.
The Golden Eagles will head into Sunday's game with a 10-5, 3-3 Big East record.
Creighton, coming off a loss from Providence 79-75, dropped to 3-3 in the Big East. Despite a career-high game by junior guard/forward Morgan Maly, her 30 points and five assists were not enough to take down the Friars.
As a team, Creighton made a season-high of 16 three-pointers. Prior to a loss against Providence, Creighton had defeated DePaul to snap its own three-game losing streak, similar to Marquette's situation.
Fun Facts:
Karlen, a Stillwater, Minnesota native was a Miss Basketball finalist for Minnesota her senior year of high school. Molly Mogensen, current junior guard for Creighton was also a Miss Basketball finalist the same year. Morgensen is from Farmington, Minnesota.
Sunday will be senior forward Chloe Marotta's 133rd career game in blue and gold. After Sunday, Marotta will be one game away from tying Angel Robinson for second in program history
Creighton has a record of 2-3 games at home on the season.
Creighton ranked a season-high of No. 13 in the Associated Press Top 25 Poll Nov. 28. So far, the Bluejays have been ranked each week of the 2022-2023 season, coming in at No. 25 this week.
A Look Back:
The most recent match-up between the two teams was hosted by Marquette on Feb. 6, 2022. The Golden Eagles won 50-47.
Marquette holds the all-time record of 13-11, dating back to 2008.
In 2008, Creighton defeated Marquette 74-73. This game remains as the smallest margin of victory for either team. The largest margin of victory was in 2015, when the Bluejays won 82-60 at home.
Key Players:
King is Marquette's leading scorer and averages 15.1 points per game. The Rockton, Illinois native totals 24 three-pointers to make the team-best three-point percentage of 42.1%.
Marotta continues to have a remarkable final season as she averages 13.4 points per game, the second-most on the team.
First-year guard Emily La Chapell has started three games for the Golden Eagles and was become an offensive spark for the team. In the first frame against DePaul, La Chapell totaled eight points and five boards in the first ten minutes of action.
Hot off a career-high in points, Maly is Creighton's main offensive force. The Crete, Nebraska native averages 17.0 scoring points per game. For Marquette, it will be critical to keep her locked down.
How to Follow:
Watch: CBS Sports Network
Twitter Updates: @MUWireSports
This article was written by Ava Mares. She can be reached via email at [email protected] or on Twitter @avamaresMU
Leave a Comment
About the Contributor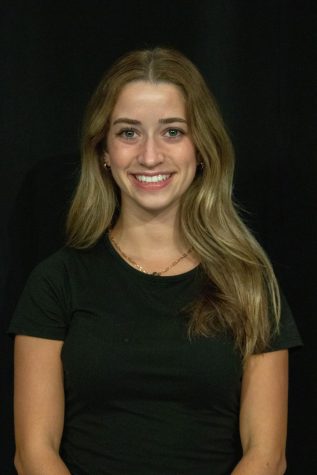 Ava Mares, Assistant Sports Editor
Ava is an Assistant Sports Editor at the Wire. She is a junior from Andover, MN studying journalism and minoring in pre-law.

In her free time, Ava enjoys...