Rituals, routines and rising up help Luke Williams step into a bigger role
Nearly 12 years ago, a gray sky covered what should have been a sunny Memorial Day weekend in Lakeview, Minnesota. The sun retreated as the late spring rain washed away any desire to venture outdoors. The same rain continuously fell on Marquette men's lacrosse face-off specialist Luke Williams' parents' home. Left stuck inside all day, Williams and his older brother, Ben, turned on the television.
"We ended up watching the Cornell vs. Syracuse National Championship lacrosse game. After that, we were like 'wow, we got to try this sport,'" Williams said.
Luke and Ben were in the third and eighth grade, respectively, when the pair went to their local Dick's Sporting Goods to get what would be "two little fiddlesticks" starting their lacrosse careers.
Ben, now retired from the lacrosse field, played majority of his career at Syracuse, where he became the all-time leader in face-off wins, leading him to eventually play professionally for the Chesapeake Bayhawks and the Florida Launch in the Major League Lacrosse league.
"My brother was having really good success in college and I kind of wanted to get away from it and just do my own thing and make my own path, so instead of taking face-offs like him, I mostly played midfield and attack in high school," Williams said.
It wasn't until Williams' junior year in high school at St. Thomas Academy in Mendota Heights, Minnesota that he started dabbling in face-offs.
"I started taking some (face-offs) for my high school team, but not a whole lot," Williams said. "But luckily I did because it is what landed me and helped get me recruited at Marquette."
Unlike his brother, Williams did not have many recruitment offers on the line, so when Marquette called, Williams answered whole-heartedly.
"When Coach Stimmel and the whole staff gave me an offer during my Marquette visit, I took it on the spot. I was like 'yes, this is it, I'm coming,'" Williams, now a redshirt sophomore, said.
Stimmel, who is in his third season at the helm of the Golden Eagles, said he remembers Williams' recruiting visit as vividly as Williams.
"We recruited him as a guy that we wanted to develop into a face-off guy, one that could also provide some offensive ability. When we had that discussion in the recruiting process, he (Williams) just jumped all over it," Stimmel said. "He wanted a chance to prove that he could do it at this level. It didn't matter what role. He's making us look pretty smart right now with how he's playing."
So far during the 2022 season, Williams has scored three goals coming from the face-off position and has won 108 of the 177 face-offs he has taken so far. Recently against St. John's University, Williams won 21 of 27.
Beyond the statistics, Williams said he credits his improvement in the position to his fellow face-off teammates.
"All five guys that take face-offs are so important. They push me throughout the week, and they beat up on me and they teach me so much," Williams said. "Without those guys I definitely would not having any success on the field. They're all so special and amazing in their own right."
As for Williams, teammates, like redshirt junior face-off specialist Thomas Washington, describe him as one who is "humble" and "hardworking." 
"Luke is a spark-plug, on and off the field he brings so much energy," Washington said. "The kid will always show up to play, he's someone the entire team can rely on."
In many ways, Williams said he relies on himself, his routines and his pre-game rituals for proper game day preparation.
"I wouldn't say I'm superstitious, but I definitely enjoy doing the same thing. Before a game, I'll listen to the same three songs on repeat, 'Hells Bells' by AC/DC, 'I'm Shipping Up To Boston' by Dropkick Murphys, and 'No One Like You' by Scorpions," Williams said.
But the pre-game preparation is not complete with music alone. For starters, Williams said he never warms up with his cleats on.
"I leave my cleats on the sideline as I go through all my same stretches. Then, I'll go up to the face-off dot and I'll spray water from my water bottle onto it," Williams said.
But Williams cannot retreat from warm-ups to the locker room quite yet.
"Before I leave the field to go put my pads on, I must throw the ball into the net from a weird spot. Whether that's from the bench or from the midfield, the ball must go in from far away."
At this point, the routine has just begun, because after the ball is thrown in, Williams said he will not leave the field until he sees numbers that he likes on the clock. Once his eyes settle on what he deems to be good numbers, the locker room ritual may commence.
"When I get ready, I like to put water all over me, so I'm soaking wet. I'll put water on my hair, drench my face, and rub water on my arms and neck too," Williams said.
Next, Williams smears eye-black on, fairly similar to how his 80s rock bands wear it.
At last, Williams is prepared to take the field.
Stimmel said the face-off position is more about the mind and less about technique.
"It's not necessarily a complicated maneuver, however it is very much mental," Stimmel said. "It's all about how quick you can be on the whistle, and there's a lot of time, effort and visualization that goes into that."
With preparation and practice, plus a few rituals in Williams' case, Stimmel said Williams continues to grow as not only a player, but a person.
"He is absolutely one of the most emotionally intelligent young man I've encountered, and on the surface, you may not see that but, he's really gifted," Stimmel said. "He doesn't say a ton, but when he talks his words carry weight. Luke is a man of action, he's not going to talk about it, he's going to do it. That's what I love about him."
This article was written by Ava Mares. She can be reached @[email protected] or on Twitter @avamaresMU 
Leave a Comment
About the Contributor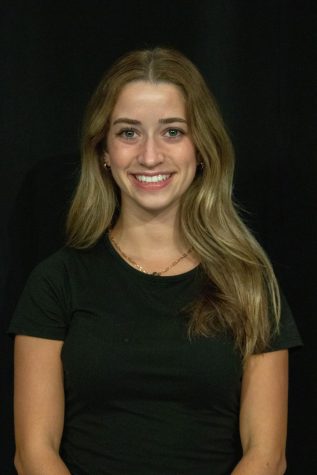 Ava Mares, Assistant Sports Editor
Ava is an Assistant Sports Editor at the Wire. She is a junior from Andover, MN studying journalism and minoring in pre-law.

In her free time, Ava enjoys...