NIEZGODA: News outlets must consider words' impact
Amid the loss, tragedy, illness and devastation of the past 22 months, mental health has been negatively affected by the overwhelming presence of the media.
Another variant of COVID-19, Omicron, was reported to the World Health Organization Nov. 24. Since then, it is now the latest COVID-19 topic to report on, dominating pages of media outlets. Headlines such as  "We won't know how bad Omicron is for another month" and "Omicron will likely 'dominate and overwhelm' the world in the next 3-6 months, doctor says" insight uncertainty and danger of a new variant of COVID-19.
After the Waukesha tragedy of two weeks ago, the media quickly reported on the disaster, with some headlines sympathizing with the accused killer. These articles said he feels as if he is being treated like a "monster" and report that his mother said this incident was caused by a "lack of mental health services." Another incident happened Nov. 30 at Oxford High School in Michigan where a 15-year-old boy shot 11 people. While there seems to be an increase in recent tragic events across the country, their impact on us may be more severe due to the sensationalization and exploitation from the media.
In the 1970s, Dr. George Gerbner, a professor of communication at the University of Pennsylvania, theorized that humans begin to develop a cognitive bias where they start to see the world as more dangerous than it actually is due to overexposure to media-related violence, more commonly known as the "mean world syndrome." Mean world syndrome leads people to have heightened anxiety, fear, general pessimism and heightened alertness. Many studies have supported this, most notably the idea that violent video games increase aggressive behaviors.
Crime rates have dropped dramatically since the 1990s, but public perception of crime has risen as 60% of surveyed U.S. adults say that crime has increased in the past years, according to a 2020 Pew Research Center survey. 
The mean world syndrome offers an explanation for why people believe the world is more dangerous than it actually may be. The media that people consume directly impacts how they view and interact with the world around them.
In 2020, the FBI reported a 5.6% increase in violent crimes from the previous year while property crimes declined for the 18th consecutive year across the country. 2020 was not a good year. From COVID-19 to police brutality to the 2020 presidential election, news outlets appeared to have a terrible report every day.
This increase of hostile media led to "doomscrolling," a phenomenon where users continuously scroll through news that is disheartening and depressing without the ability to pull themselves back.
Today, people often have a dependency on their cell phones and the ability to have any information at the touch of their fingertips. According to a Pew Research Study, 86% of surveyed Americans say that they receive their news from a smartphone, tablet or computer. People receive news quicker than ever before with the increased use of social media, connecting them with every area of the world. While the ability to have information at their demand can create a more informed and aware society, it may also bring the world into a perpetual state of despair due to the overwhelming amount of negative information regarding current events.
This is not always the public's fault. News outlets know how to engage readers. 
Fear sells. Violence sells. Outrage sells.
All of the headlines ranging from the Omicron variant, the Waukesha tragedy and the Michigan school shooting compete with other news sources and attempt to gain the most readers. To do so, some media outlets must gain the reader's attention with preposterous headlines such as inciting the fear of COVID-19, sympathizing with an accused killer and infantilizing a school shooter.
The United States media coverage is highly scrutinized. The media does not attempt to sensationalize itself, the business model must do that. In order to stay relevant, privatized news outlets are under financial pressure to deliver what their audiences want to read. It is a marketing tactic for media outlets to use emotional pulls to engage their audience.
Staying informed and staying educated is crucial to the progress of the nation. Still, feeling as though there is a threat due to the influx of overwhelming media we consume does not move us in a positive direction as a society.
News can become overwhelming, and the responsibility is on people to protect their mental health in the wake of a global pandemic and further tragedies. Obtain your information from news outlets that provide balance in your news feed; this balance serves as a buffer between the positive and negative news. People could also take a break from their phones to avoid scrolling through depressing media. 
News outlets that resort to sensationalization need to revise how they develop stories. These outlets need ethical headlines that don't exploit tragedies for the pursuit of profit. The news must understand the impact their words have on their audiences.
This story was written by Laura Niezgoda. She can be reached at [email protected]
Leave a Comment
About the Contributor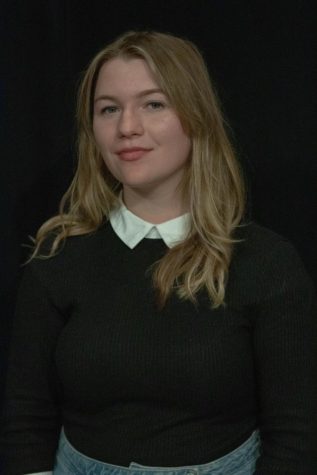 Laura Niezgoda, Assistant Opinions Editor
Laura is the Assistant Opinions Editor at the Wire. She is a junior from Greendale, WI studying communications and criminology & law studies and minoring...