"A symbol of perseverance": Indigenous Peoples' Day
Content warning: This story mentions multiple instances of sexual, physical, mental and cultural abuse.
"On Indigenous Peoples' Day, we honor America's first inhabitants and the Tribal Nations that continue to thrive today. I encourage everyone to celebrate and recognize the many Indigenous communities and cultures that make up our great country," President Joe Biden said in an address to the White House on Oct. 8.
Before Biden's address, only 10 states recognized Indigenous Peoples' Day as a national holiday: Alabama, Alaska, Hawaii, Maine, Nebraska, New Mexico, Oklahoma, Oregon, South Dakota and Vermont. There are also 10 states that see the holiday by means of proclamation: Arizona, California, Louisiana, Iowa, Michigan, Minnesota, Nevada, North Carolina, Virginia, Wisconsin and Washington D.C.
Indigenous Peoples' Day has also been previously mistaked with "Columbus Day" after Christopher Columbus. On Oct. 8, Washington D.C. voted to replace Columbus Day with Indigenous Peoples' Day, other countries across the United States are also choosing to replace it.
The Harvard Gazette writes "for Native people in the U.S., Columbus Day represents a celebration of genocide and dispossession."
Siobhan Marks, communications and marketing director of Indian Community School, also goes by her Anishinaabe name Zeegwun Noodenese and said in an email, "given who Christopher Columbus was and the inhumane and barbaric atrocities that he inflicted on Indigenous people, which also set a trajectory of continued abuse for centuries; it's unthinkable that anyone who understands the truth of what happened, would celebrate his name or his memory."
Now Indigenous Peoples' Day focuses on recognizing Native American history and celebrating their culture.
Marks/ Zeegwun Noodenese said celebrating Indigenous Peoples' Day is especially important for Native American youths to understand what it's like to be acknowledged in a "society that barely notices them most days of the year."
"It's also important to celebrate what 10-year-old ICS students achieved in 2016 when they set into motion a way in which all children in schools throughout Wisconsin can learn about the truth about Christopher Columbus and have a more accurate understanding of our nation's history," Marks/ Zeegwun Noodense said in an email.
Will Egan Waukau, president of the Marquette Native American Student Association and senior in the College of Arts & Sciences, said Indigenous Peoples' Day is meaningful to honor the history and cultures of all Indigenous people.
"I consider Indigenous Peoples' Day to be a symbol of perseverance. Our people have such a deep and rich history that I am proud to be a part of. Now that this day has been designated a national holiday, it solidifies our past, present, and future contributions in perpetuity," Egan Waukau said in an email.
Egan Waukau said he was happy with Marquette's efforts in increasing its actions to cultivate a more inclusive environment — especially with its recent land and water acknowledgement.
The land and water acknowledgment establishes that Marquette recognizes Native Americans' long history of living on the land and water where Marquette is currently located.
"Marquette University further acknowledges and pays respect to the elders and ancestors past, present and emerging whose histories, knowledge and cultural traditions have shaped the land and water of the greater Milwaukee area and can enrich practices around its stewardship. We affirm our commitment to practice ongoing good relations with the land and water and with sovereign Indigenous Nations that caretake them," Marquette said in its statement.
University President Michael Lovell said that Marquette is apprehensive that the campus and Milwaukee is the homeland and waters of several Indigenous tribes, such as: Menominee, Potawatomi, Ho-Chunk, Fox, Mascouten, Sauk and Ojibwe nations. L
"To me, Indigenous Peoples' Day is about hope for truth, reconciliation and healing for all people who are just becoming aware of the truth and accurate history of our country's unsettling practices," Marks/Zeegwun Noodense said in an email.
Marks/Zeegwun Noodense said schools used to be places of oppression and abuse, which can be seen as Native American children's remains have continued to be discovered at boarding school locations; however, she said that Indian Community School represents a different message.
Due to The Indian Civilization Act Fund of March 3, 1819 and the Peace Policy of 1869 in the U.S., and religious beliefs from the Christian Church, the Indian Boarding School Policy caused "cultural genocide" by forcing Native American children from there families and into these schools to "Kill the Indian, Save the Man."
At these schools, Native American children were not allowed to speak their native language, participate in any activities in any way that could be perceived as "traditional or cultural," could not dress in their traditional clothing, hair, have any personal belongings or have any behaviors that could reflect their culture.
"Between 1869 and the 1960s, hundreds of thousands of Native American children were removed from their homes and families and placed in boarding schools operated by the federal government and the churches," The National Native American Boarding School Healing Coalition said.
The children at the schools often endured sexual, physical, cultural and spiritual abuse.
"[The children] experienced treatment that in many cases constituted torture for speaking their Native languages," The National Native American Boarding School Healing Coalition said.
Although the amount of children taken is unknown, it is estimated by 1900 there were around 20,000 children at these boarding schools, and that amount tripled by 1925.
In Wisconsin, Governor Tony Evers went to the Oneida Reservation to sign an executive order to apologize and recognize the abuse that Indigenous children experienced at the boarding schools in Wisconsin.
"These stories have been erased from mainstream history books," Evers said. "We don't know the full scope of these boarding schools in Wisconsin and the U.S."
The executive order also supports the U.S. secretary of the Interior Deb Haaland to investigate what happened at the boarding schools and their history.
"We teach, honor and celebrate Indigenous languages, cultures and ways of being 365 days a year. To us, every day is Indigenous Peoples' Day. But that said, we do make a big deal about the second Monday each October, to celebrate the amazing accomplishments of our students," Marks/Zeegwun Noodense said in an email.
This story was written by Julia Abuzzahab. She can be reached at julianna.abuzzahab@marquette.edu
Leave a Comment
About the Contributor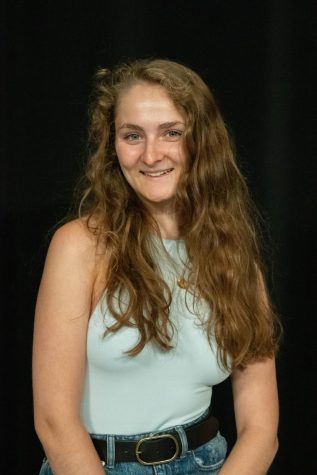 Julia Abuzzahab, Executive News Editor
Julia is the Executive New Editor at the Wire. She is a junior from Wausau, WI studying journalism and minoring in film & media studies.

In her...