April 6th election takes place in Milwaukee
Wisconsin holds its 2021 spring elections April 6. The positions being elected include multiple school board directors, state superintendent of public instruction, and municipal and circuit judges. 
The elected state superintendent of public instruction serves a four-year term, while Wisconsin circuit judges serve six-year terms. This is the only statewide election this election day.
For Milwaukee, the local positions being elected are school board directors for districts four, five, six, seven, and a municipal judge.  
Elected school board directors serve four years in office, as do elected municipal judges.
Many of the currently elected officials for these local positions are not running for reelection this year, meaning there will be many newly elected officials voted in.
Who is elected does come down to who votes. While about 60% of Americans vote during a presidential primary, only 20% vote during local elections. In a 2019 election for a Wisconsin Supreme Court justice, there was about a 27% turnout in Wisconsin.
Bryanna Spietz, a first-year in the College of Arts & Sciences and the finance director for Marquette Democrats, said that while all elections are important, local elections are especially important.
"These are where ideas are most likely to be heard and acted upon," Spietz said.
Spietz also said that locally elected officials are "more directly involved in the community and the process going on" because of the smaller population size they serve.
Allison Mazukelli, a first-year in the College of Health Sciences, also said that even if its not a big election by some people's opinions, it still important. Mazukelli said that even if it's not a major one, the election "affects everyone in Milwaukee, and there's a lot of people in Milwaukee."
Milwaukee's population is just under 600,000 as of 2020. 
Even for students who don't permanently live in Milwaukee, such as Spietz, the local election can impact them.
Spietz said that although she's not from Milwaukee, she's here during the school year and the decisions the community votes on will affect her. For students who go to school in Wisconsin, they can register to vote even if not originally from there. In addition to those affects, the decisions made in local elections can be impactful for more than just the city or state.
"Our city can implement new policies and change that draws attention from the rest of the nation. Their implications can affect people statewide and even nationwide," Spietz said.
Abby Gray, a first-year in the College of Arts & Sciences and a member of the Marquette Democrats, also said her views on local elections are that they are essential.
"Voting for local officials is the best way to reflect our values since it impacts us the most," Gray said.
Gray also said each elected position is important.  She mentions that the courts are a "lesser known" voting system, however, they still hold importance. These courts are "important in high publicity cases," for example.
Another example Gray used is the importance of the superintendent position. Gray said they are "the face of the public schools," which is why it's essential for people to "elect someone who fits our vision for public schooling."
The candidates on the ballot for Wisconsin state Superintendent this year are Jill Underly, the current superintendent of the Pecatonica School District, and Deborah Kerr, a former superintendent of the Brown Deer school district. Both candidates have over fifteen years of experience working in the education system.
Recently, Kerr has received attention due to a controversial tweet  she posted. The tweet, posted in response to a thread asking, "When was the first time someone called you the n-word? I was 18," has since been deleted, along with Kerr's twitter.
Underly was recently questioned on her ability to handle racial incidents by a now former superintendent candidate, Shandowlyon Hendricks-Williams. Hendricks-Williams, during a forum, questioned Underly as she referred to an incident that occurred in the area of Underly's school district before an upcoming game.
Those looking to find their voting site or who want to register to vote can find out how to do so here.
This story was written by Karsyn Hartsfield. She can be reached at karsyn.hartsfield@marquette.edu
Leave a Comment
About the Contributors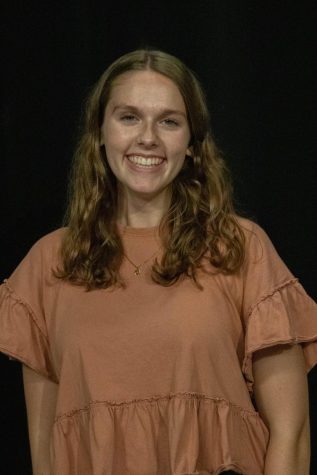 Isabel Bonebrake, Chief Photographer
Isabel is the Chief Photographer for the Marquette Wire and oversees the photo desk. She is a junior from Frankfort, IL majoring in journalism and minoring...