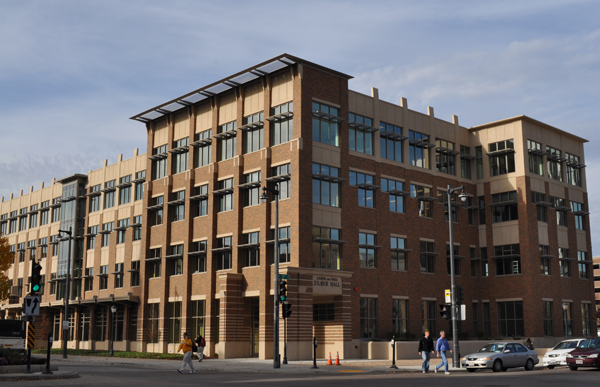 After consulting with local and national medical experts, provost Kimo Ah Yun announced that all 2021 commencement events will be held virtually due to the COVID-19 pandemic.
A large virtual commencement will take place May 23, 2021.
"We wanted to let you and your families know as early as possible so you can plan accordingly," Ah Yun said in a Jan. 28 news release. "We will continue to monitor public health orders and consult health experts to determine if there is an opportunity to safely stage a hybrid event and will share more details this spring if that becomes a possibility."
Ah Yun said that each college and school is also working to adapt its own ceremonies and traditions. More details will be shared in early spring.
"Please accept our best wishes for a healthy and memorable final semester at Marquette," Ah Yun said. "We recognize and share the pride that you and your families rightfully feel, as well as the hard work and the sacrifices that each of you continue to make in the pursuit of your education and professional goals."
A virtual commencement is far from what seniors were expecting to celebrate the culmination of their time at Marquette.
Sarah Collins, a senior in the College of Arts & Sciences, said her dad never graduated from college. When she heard that the ceremony would be virtual, she said she immediately felt bad for her dad. He never got to see her brother, a 2020 graduate, walk the stage last year. Now, he won't be able to see her walk either.
"I know he was super excited to see me and my brother graduate," Collins said. "Just seeing my dad's pride … I really, really hope they change it."
Seniors expressed their dismay for the university's decision.
"When I first heard, I was sad because obviously they had virtual commencement last year," Bailey Birenbaum, a senior in the College of Nursing, said. "We thought that Marquette would have had enough time to figure out a way to celebrate our graduation and our accomplishments in person. … I was upset."
Collins said she knew there would be an option for a virtual graduation for those who might not be comfortable with an actual event, but hoped there would be a socially-distanced option as well. She mentioned the vaccines being released.
"I figured maybe they would've talked … to figure out how to make it safe," Collins said.
Birenbaum said that while students are socially distanced in class, it is not always possible when walking to and from campus, but everyone still wears masks.
"I don't know how there would be a difference if we were socially distanced (and wearing) masks at graduation," Birenbaum said.
Despite the potential for a hybrid experience, Collins said she believes they will just give up on the idea, especially since the virtual ceremony is likely saving the university money.
This story was written by Alexa Jurado. She can be reached at [email protected].