Pablove Foundation aims to help families impacted by cancer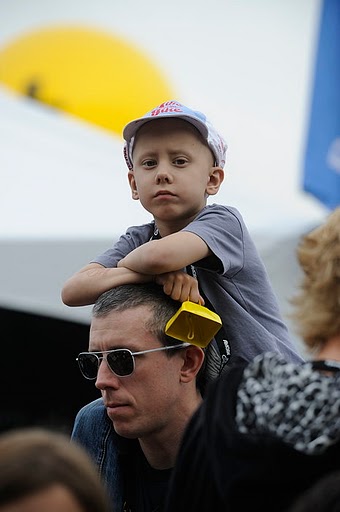 In 2008, just days before his fifth birthday, Pablo Castelaz was diagnosed with a rare form of childhood cancer known as bilateral Wilms Tumor. After roughly 13 months of intense treatment, Pablo died a week after his sixth birthday.
Pablo's parents started the Pablove Foundation, a group focused on childhood cancer research, soon after Pablo was diagnosed.
Jeff Castelaz, Pablo's father and former Marquette student, said the foundation has since grown to a national level, offering a photography program in various U.S. cities and having raised $2.8 million for childhood cancer research.
In partnership with Pablove, Marquette Radio will be tabling in the Alumni Memorial Union every day this week from 11-1 p.m. and accepting donations for the foundation while also raffling off Pablove prizes. Additionally, Marquette Radio will host its annual Rock-a-Thon concert in support of the foundation this Friday at the Annex at 7 p.m.
"My family and I were thrust into this world of pediatric cancer, and we very quickly realized that a lot of people needed a lot of help," Castelaz said. "It's a very lonely thing when your child has cancer. And we didn't know at first how we were going to help."
One of the first things Castelaz did after starting the foundation was go on a country-wide bike ride in honor of Pablo, Bart Verry, current Vice President of Development at Pablove Foundation, said.
"He flew to southern Florida and took about six weeks to ride his bike over the southern part of the United States back to southern California," Verry said.
Verry added that during this six-week span, Castelaz did a lot of blogging and connecting with other people who shared similar experiences. People joined him along different parts of the bike ride and rode along with him in memory of Pablo and in unity against childhood cancer.
The bike ride, Pablove Across America, has since become a Pablove Foundation annual tradition.
"I'm a cyclist and I've been riding since I was a kid in Milwaukee," Castelaz said. "It was natural when Pablo was in treatment for me to use my bike as a way to relieve stress and to stay in shape so that I could be his dad."
Pablove Across America just wrapped up its 11th year with roughly 500 different riders participating. To include more people, Pablove Across America is now a week-long bike ride from northern California to Southern California rather than a six-week ride across the country. Throughout its 11-year span, the bike ride has raised almost $10 million for the foundation, Castelaz said.
"Over time we came up with a mission which was to fund cutting edge research and to do something to embrace the artistic creativity of kids. Because Pablo was really into photography and drawing and all that stuff, and he was a kid, so that's what he wanted," Castelaz said.
Verry said that Pablove prides itself on being an arts and sciences organization.
"The arts piece is our Pablove Shutterbugs program, where we teach kids who have been diagnosed with cancer the art of photography as a way to provide them a creative outlet, as a way to allow them to be social because so many of these kids have been pulled from school," Verry said.
The Pablove Shutterbugs program is active in Los Angeles, San Francisco, Seattle, Boston, New York, New Orleans, Houston and Austin. The five-week program is focused on art education and is offered each spring and fall. Its goal is to teach kids with cancer the fundamentals of photography.
Each city has about 15-18 students per season, and students receive camera kits they can keep. They are given projects to work on during weekdays, and the group comes together as a whole for five consecutive Saturdays.
"If at any time during any of the classes they're unable to participate, we'll send one of the volunteer teaching assistants to come to their home and teach them that class," Verry said.
Each participating Shutterbugs city also hosts a gallery show each year where every student gets one of their photos selected to be printed, framed and displayed at a gallery where community members can come view and even purchase the pieces. All the proceeds go back into funding research for the foundation.
The Pablove Foundation also facilitates a strong alumni network for former Shutterbugs members to come together and continue their love of photography while also advocating for other kids with cancer, Verry said.
Raul Lorenzana, Senior Manager of the Pablove Shutterbugs program, said cancer can significantly disrupt a child's sense of normality.
"Cancer tends to rob so much from families, not just their normal routine but their way of life as they know it," Lorenzana said. "To have parents come up to me after class and say, you know, 'This is the first time our family has felt normal in a while,' or 'the first time I've seen my child interact with another student,' or 'the first time I've seen them smile and laugh and have a sense of wanting to be creative since we started this experience,' is the most rewarding."
While creative outlets are a central focus at the Pablove Foundation, Verry said the organization is also committed to funding research that could one day result in a cure for cancer.
The Powered by Pablove Childhood Cancer Research Grants Program seeks to "provide $50,000 seed grants to innovative, young, daring researchers who have out-of-the-box ideas around rare forms of pediatric cancer research, and they need some funding to get their projects started," Verry said.
He said the foundation funds anywhere from four to six researchers each year. He said the foundation has a scientific advisory committee that reviews roughly 100 letters of interest before filtering that number down to 20-25 who are invited to submit a formal proposal.
"To date we have funded over $2.8 million dollars in research, and those researchers have gone on to secure an additional $10 million dollars from places like the National Institute of Health to help them continue their funding," Verry said.
Editor's note: Marquette Radio is a branch of the Marquette Wire along with the Marquette Tribune. The author of this piece is the current General Manager of Marquette Radio.