Home is Where the Heart Is
A classmate once asked me, "Who are you always on the phone with?" My response is simple: my parents. There's not a day that goes by when I don't talk to them at least twice.
Whether it's when I'm walking to class, after I receive exciting news or just when I'm in my room studying, I talk to them every day.
Though a lot of people don't understand why I call my parents so much in my free time, I know exactly why. Family is everything to me.
And family isn't always biological. In my case, it's the people who have spent their lives giving me the world and making me their everything.
If you see my parents and me walking down the street, you'll realize it right away: We look nothing alike. I have black hair, brown eyes and I'm super short. My mom has red hair, green eyes and is average height. Meanwhile, my dad has gray hair, blue eyes and is 6-foot-3.
The reason? For the first 10 months of my life, I lived in China.
I was born in a small town called Le Ping, which is in Jiangxi Province, China. I was left in a farmer's field when I was a baby until someone found me and brought me to an orphanage.
About a day later, my foster family picked me up. For the next 10 months, I stayed with them in Le Ping.
A continent away in Naperville, Illinois, Bob and Julie Comerford filled out paperwork for adoption. In February 2000, they got the call: They are going to travel to China in April with eight other families who are also adopting.
Two months later, the nine families got on a plane to Beijing. On April 16, 2001, I met my parents for the first time.
I didn't know it then, but that day will always be the best day of my life. Each year on April 16, we celebrate the day we became a family. Most adopted families we know call it "Gotcha Day," but we call it "Family Day."
My parents bought 18 different presents in China before they met me. They give me one every year, and have for past 18. Some of the presents include jade necklaces, calligraphy sets and pearl bracelets.
When we put down our 13-year-old Boston Terrier last year on Family Day, I didn't necessarily want to remember that she died April 16, but I quickly realized why we did it. She is part of our family and deserves to be remembered on a day when we come together to celebrate when we became a family.
My grandparents and my mom's aunt Isabel greeted us when I got to the United States. She went by Izzo, and that's how my parents chose my legal name, Isabel. My parents took the "Zo" from Izzo and added an e and that's how I received my nickname, Zoe.
Though I have thought about eventually meeting my birth parents, I have learned that my parents aren't necessarily the people I inherited genes from. They are the people who raised me.
The summer before I started middle school, my parents and I took a trip back to China. We visited major landmarks such as the Great Wall and Tiananmen Square. I pet pandas as big as me in Chengdu. We traveled all around the country, from Beijing to Chengdu to Hong Kong. Most importantly, I met my foster parents.
I still remember feeling nervous on the way to Le Ping. My parents and I brought the fad rubber bracelets, Sillybandz, to give out to children in the town. We then went to my foster family's house, where I met my foster mother, father, sister, brother and nephew for the first time in almost two decades.
At first I was hesitant, but my foster family recognized me instantly and it was surreal. Even though there is a language barrier, I told my foster family that I was doing great through our interpreter. They gave me a bookmark with my birth mother's handwriting on it. It confirms what I always wondered: I was actually born June 2, 1999.
I'm not the only one to go through this. My best friend and next-door neighbor Emily, whom I have known since known I was 2 years old, and I were both adopted from China. She graduated from Marquette in December.
We have similar experiences growing up with always wondering who our birth parents are.
I've realized people who are a part of adopted families are often comfortable sharing their stories with others with adopted backgrounds. I noticed this last year when I wrote about the men's tennis and golf coaches, who both adopted children. Having a personal tie made it easier to ask questions about their experiences with adoption. The story is the first-place regional winner for best sports story from the Society of Professional Journalists.
Domestic adoption, like what the two coaches did, makes it sometimes easier to figure out family history. International adoption is usually the opposite. I never know what diseases or conditions I may be prone to because of my genetic history. I can never fill out the family history part of forms at the doctor.
People ask me if I ever want to meet my birth parents. Even though it would be interesting to find out who they are, I don't really want to.
My parents are the ones who have raised, cared and supported me over the past two decades.
They never missed a band or jazz band concert in middle school. They never missed a tennis match, band concert, jazz ensemble gig or awards ceremony in high school.
Now, my parents never miss a broadcast I'm on and always are the first ones to read my articles.
As an only child, my parents are my support system. It's the reason I call them so much. We are like three peas in a pod.
Family are the people who you hold most dear to your heart. Every time I go home to my big yellow house in Illinois, I am reminded that home is where the heart is.
Leave a Comment
About the Contributor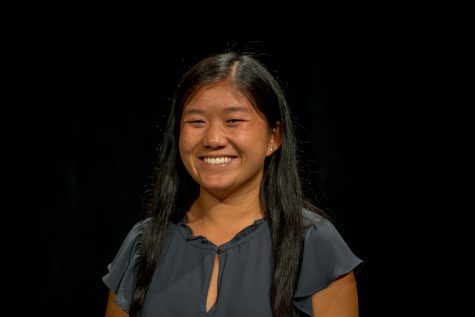 Zoe Comerford, Executive Sports Editor
Zoe Comerford is the Executive Sports Editor for the Marquette Wire. She is a senior from Naperville, Illinois, majoring in Journalism and Digital Media...