Noah Rodecap is like any other 6-year-old. He loves basketball, tennis, playing with his friends and he idolizes his dad. The only difference is that he's part of an adopted family.
"You would never know he's adopted," said Steve Rodecap, Marquette's men's tennis coach and Noah's father.
"He always jokes he thinks he looks like me," Rodecap said. "He acts a lot like me. He's fit in extremely well."
Rodecap is not the only Marquette coach to adopt a son from Milwaukee.  Men's golf head coach Steve Bailey and his wife Bethany went through the same adoption process with his 3-year-old son Christian in July 2016.
Through this process, the Rodecap and Bailey families have become inseparable.
"We're really, really tight," Steve Bailey said. "Our families too, they helped us out a lot. Just (by) watching Christian, Emily (Rodecap's wife) would help out. So the kids have gotten to know each other really well too through the process."
Nearly seven years ago, the Rodecap family made a life-changing decision to adopt Noah through the Foster-to-Adopt system in the state of Wisconsin.
The difference between foster care and adoption is that with fostering, a temporary home is provided for a child until they can be returned to their biological parents. But with adoption, one can become that child's primary caretaker and parents.
"With foster care, they do a really good job of educating you going into the process to say, 'Your whole purpose is to reunite this child with their biological family, so you're just a temporary home for them,'" Steve Bailey said.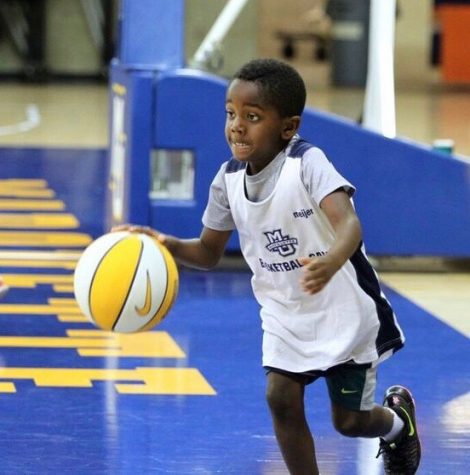 The Rodecap family initially heard about the Foster-to-Adopt system through former Marquette athletic director Steve Cottingham, whose family fostered to adopt. As more people suggested the same program, their interest was piqued.
"I had been talking to a girlfriend about our desire to do this," Emily Rodecap said. "She said, 'Oh I just had a friend who adopted through the county of Milwaukee.' Boom boom, two people telling me to go to the same place. Steve and I decided, 'Ok, let's go to the informational place and just check it out.'"
Adoption is a personal issue for Emily, who was adopted from Seoul, South Korea, at the age of two. Both her older siblings are adopted, too.
"Ever since I was little, it was always a desire to be able to adopt and give back something I received," Emily Rodecap said.
The Rodecaps had to undergo plenty of paperwork, classes and screenings prior to the adoption, but Steve and Emily Rodecap were able to begin taking care of Noah the day he was born.
"I was sitting in my office and got a call about 3:30 in the afternoon describing him to us," Steve Rodecap said. "When we got him, we had absolutely nothing. It's kind of different than having a normal pregnancy where you kind of plan and have a crib. We were scrambling to put things together for him to come home."
For the Baileys, the decision to adopt came after attempting to have biological children for a decade. Bethany, an elementary school teacher, had friends with adopted children, which made it seem like a more plausible option.
"Our faith is a big part of our life, so we basically felt that God led us in a different direction," Steve Bailey said. "Everything happens for a reason."
While going through the adoption process, the Baileys leaned on the Rodecaps for advice. Steve Rodecap called the relationship among foster families a "revolving door," where experienced families consistently reach out to help newer ones. The Baileys always felt like they could depend on the Rodecaps.
"We've called them at any time to kind of discuss different things we've gone through," Bethany Bailey said. "It's a neat friendship. It's a neat connection that we have."
"He's been such a great mentor to me, just through this whole process," Steve Bailey said of Steve Rodecap.
Prior to the adoption, the Rodecaps had two biological children: Patrick and Missouri. Both were less than 1o years old when Noah was adopted, and have only known him as their brother.
"They're normal brother and sister," Emily Rodecap said. "They love him so much, and it's really neat just to expose them to that aspect."
Noah and Christian often play together as the parents look on, even though the former is three years older. The Baileys hope Noah can be someone for Christian to look up to as he learns more about how he came to be part of the family.
"As they age, (they're) going to feel different emotions," Steve Rodecap said. "Hopefully Noah will be that role model for him to be able to help him through those challenging times together."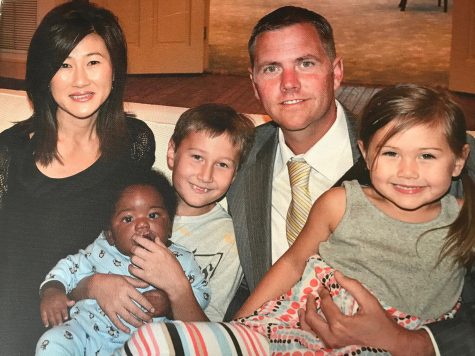 Luckily for the Rodecaps, they have a whole family of people on Emily's side connected with the adoption process. When Steve and Emily Rodecap took Noah home, Emily's father wrote a note to both of them expressing how proud he was that they were adopting.
Meanwhile, Steve Rodecap also feels a personal bond with his fellow head coach's kid. "Christian was in the office today, and I just wanted to squeeze him," Steve Rodecap said. "I kind of feel like he's part of me — of our extended family."
Families that have gone through the adoption process often celebrate 'Gotcha Day,' which is a commemoration of the day they brought their kid home. The Baileys and Rodecaps each celebrate the adoption of their sons in different ways.
Steve and Bethany Bailey like to celebrate three special days for Christian: his birthday, the day he came home with the Baileys (Jan. 3) and the day he was officially adopted (July 29).
Meanwhile, the Rodecaps were selected to adopt Noah on National Adoption Day, which is the Saturday before Thanksgiving. After a celebration with balloons, gifts and the same kind of cake they got him when he was adopted, Noah goes to the courthouse with his parents to watch other children be adopted.
"It's a really neat experience for our family to be a part of," Steve Rodecap said.
Both families said they would be willing to adopt more children.
"We feel that if there's a room open in our home, we want to fill it," Steve Bailey said. "To know that you can make a difference and however long they're with you, I feel like that's why we're in this, to do what we're doing."
Story continues below advertisement