Red's Mark on a Green Field
Hang on for a minute...we're trying to find some more stories you might like.
Four-time NFL champion. Field general. Revolutionary quarterback. Ironman. 
Joseph "Red" Dunn, who is nicknamed "Red" for the color of his hair, played for Marquette's football team from 1921-'23 prior to the program's discontinuation in 1960. His career also includes taking the Chicago Cardinals to the 1925 NFL title and being a 1976 Green Bay Packers Hall of Fame inductee after winning three championships for the green and gold.
On offense, his position is quarterback, but that is not the same position we see today.
"When you think of quarterback, it was a different time period," Packers museum curator Brent Hensel says. "Now we think of the quarterback handling the ball at all times, throwing the ball, calling the signals. The quarterback at that time was a blocking back, a fullback often."
But Packers head coach Curly Lambeau was so impressed with the talent of Dunn that Dunn actually ended up handling all of those duties: controlling, throwing and running the ball, calling signals and serving as blocking back and tailback occasionally. Once Dunn retired, the Packers offense went back to using the quarterback in the fullback role.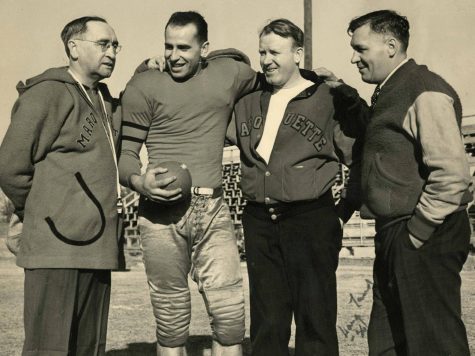 As Lambeau's field general, Dunn threw for 4,641 yards — the second-highest in the pre-statistical era — and is even dubbed the best quarterback in Lambeau's tenure.
He had plenty of roles on special teams and defense, including safety, punter, kicker and punt returner.
"Football was very low scoring at this period. Teams even averaged below 10 points a game and it was all about field position, so punting was extremely important," Hensel says. "(Red) was also a great returner. In fact, unofficially, he's the (Packers') all-time leader in returned punts."
Despite the fact Dunn is in the team's Hall of Fame, his name is forgotten by many because his playing career ended far before most current Green Bay fans were born.
Although Dunn's name is not revered like former Packers quarterback Bart Starr's, the franchise might not be the same if it weren't for this quarterback.
"He's the quarterback that started it all," Hensel says. "He's the first one that won championships. He won the first three for the Packers. He started the tradition (of championship-winning quarterbacks)."