KAISER: UAB football situation parallels painful MU memory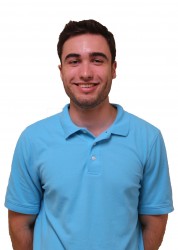 The University of Alabama-Birmingham Blazers football team, at 6-6, was bowl eligible this season for just the third time in its 19-year Football Bowl Subdivision history, a big achievement for a team that lost at least 9 games in each of its last three seasons.
But Ray Watts, the university's president, gave UAB football players the worst possible news Tuesday. They were no longer football players at the university.
UAB became the first Division-I program to cut football since Pacific did so in 1995. Watts cited the university's strategic planning – which, in a 16-page report, claimed the university would need to invest at least another $49 million during the next five years to maintain its football program – as the reason for the decision. The more likely reason, and the one UAB supporters are running with: the University of Alabama System Board of Trustees, loyal to the mighty Crimson Tide at Tuscaloosa, encouraged Watts to kill the program to protect their interests and political vendettas.
Regardless of the reason, players were crying in their closed-door but cell-phone-recorded meeting with Watts. Outside, students and other supporters were chanting in support of their team. Teary-eyed, the players lashed out at Watts, rightfully told him he didn't understand and comforted each other in the tough time. Tristan Henderson, UAB's 26-year-old senior tight end who entered college late after serving in Iraq, hit the nail on the head as he passionately shouted at his university president.
"There are 18 year olds in here, 17 year olds," an emotional Henderson exclaimed, with heartbroken players sniffling in the background. "Some of these cats came from 3,000 miles away to play here, to be a part of this, to be a part of all of this. But you say (financial) numbers? That's what you come here to say, numbers?"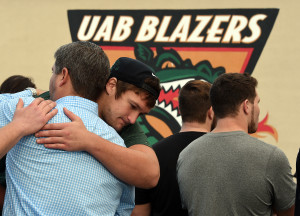 And therein lies the saddest part. While the players will be allowed to transfer with ease if they decide to play elsewhere, or can remain on scholarship if they decide to finish their education at UAB, neither was a decision they wanted to make. They came to UAB to play football at UAB, and now the trajectory of their college experiences is changing course, likely for petty political reasons.
It's sad, and it's also something the Marquette community is familiar with.
Fifty-four years ago next week marks the anniversary of when the university decided to cut football. At this point it's become a joke – Marquette football is undefeated since 1960 – and this generation of Marquette students is more than immune to the lack of football on campus. But what is evident in the UAB case, and especially Henderson's emotional plea, is that cutting an athletic program this large affects more than a product on the field. The reaction from the Marquette community in 1960 shows the exact same thing.
Marquette students took to the Milwaukee streets Dec. 9, 1960 to chant "we want football, we want justice," though then-University President the Rev. Edward J. O'Donnell insisted the university "exhausted all possible ways of retaining the sport."
Players were told the university would continue to pay their tuition, but not their housing. They were also told by the Athletic Department the elimination of football was a "business decision." Some players transferred, some reluctantly stayed, but none were happy.
Alumni chipped in the conversation, too. John "Big Train" Sisk, a star halfback at Marquette in the 30s and later for the Chicago Bears, immediately led a drive to get football back following O'Donnell's decision.
"We know we can get $50,000, $60,000 or whatever is needed," Sisk told the Milwaukee Journal Dec. 10, 1960. "We are willing and able to underwrite the loss the university suffered in football this year."
"We have the backing of the alumni, businessmen and many other friends of Marquette," he continued. "The bomb which hit Hiroshima shocked the world. This one was a bomb which shocked alumni and thousands of friends of Marquette."
Comparing the death of Marquette football to an atomic bomb sounds extreme to read now, but it shows the mood felt in and around Marquette when the program was cut. It's also, seemingly, the mood at UAB right now.
With six wins, the Blazers are eligible for just their second bowl game in school history. Conference-USA has five bowl tie-ins, while three other bowl games will need to use replacement picks due to conferences failing to provide enough bowl-eligible teams. That leaves eight chances, if selected for one of them, for the current crop of UAB football players to play one final time together.
For the sake of the student-athletes involved, it would be thoughtful for a bowl game to give them that last shot. Maybe in 54 years the UAB community can laugh about this, with "undefeated since 2014 remarks" and the like. But right now, it's an atomic bomb, and one not much different than what hit Milwaukee in the winter of 1960.
Leave a Comment