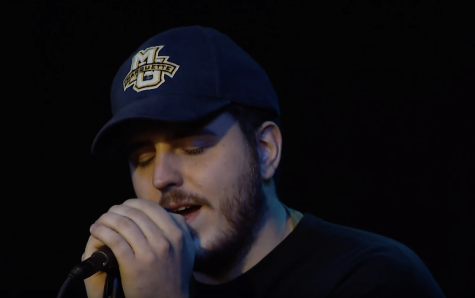 Before Thanksgiving Break, Marquette Radio and Marquette TV had the pleasure of hosting local Milwaukee artist, King Myles, for their New Music Monday program. A local Milwaukee native, Myles been producing music since 2012. Most notably this past fall, Myles and Trashman Shunny produced the song 'Christian Yelich' following the Brewers win to clinch the NLCS which garnered over a thousand listens on Spotify. Myles has also formed his own record label, Hiii Tribe. His label has six artists currently signed.
Donning a Marquette hat, Myles performed two songs; 'Shipwrecked', and 'Dancing in the Rain' in the TV studio with his fiancé also in attendance.
Post-performance, Myles and his fiancé were interviewed by the Marquette Radio staff. In 20 minutes, the conversation covers a variety of topics, from Myles's engagement, his upbringing and influences, founding his own record label, expanding to the Appleton market and so much more.
Myles will be performing at his album release party on December 8th at 9pm at the Cactus Club,