Howard looks to become elite rebounder
Hang on for a minute...we're trying to find some more stories you might like.
Entering this season, men's basketball point guard Markus Howard's shooting prowess was no secret. He led the nation in 3-point shooting percentage his freshman year and finished second in the BIG EAST last year in points per game.
But now the junior is looking to add a new skill to his repertoire: defensive rebounding.
"It's something else that I've been trying to add to my game — continue to get in there with the bigger guys that do a lot of the dirty work," Howard said. "I want to try to make their jobs easier, too."
This season, Howard already almost doubled his defensive rebounding percentage. According to KenPom, a prominent college basketball analytics site, Howard grabbed 10.3 percent of defensive rebounds his freshman year and 11.1 percent of rebounds his sophomore season.
In the first two games of 2018-'19, he grabbed 20.1 percent of defensive rebounds. Only one other player shorter than 6 feet from the six major basketball conferences has more efficiently crashed the defensive boards: Auburn University guard Jared Harper.
Howard also has as many rebounds in the first two games of this season as he did in the last six games of 2017-'18.
If Howard can maintain these numbers throughout the season, it would be unprecedented at Marquette. In KenPom's 17 seasons tracking defensive rebounding percentage, no Marquette player shorter than 6 feet 6 inches finished a season above 20 percent.
The idea behind adding rebounding to Howard's game was to help the team run a smoother and quicker fastbreak.
"Knowing that guards don't really crash the boards at my size, I want to bring a different dimension to my game," Howard said. "It helps our offense. If I'm up there grabbing rebounds, it's easier for our fastbreak to get started."
Head coach Steve Wojciechowski said many opposing point guards do not go for offensive rebounds, making rebounding a realistic feat for a 5-foot-11 guard.
"When your point guard can defensive rebound, it's a huge asset for your team," Wojciechowski said. 
Wojciechowski used the Lakers teams from the 1980s as an example of the potential of a rebounding-heavy guard running the system.
"When you think of the great fastbreaks over the course of basketball, for me I think of the showtime Lakers, and a lot of it started with Magic Johnson getting rebounds," Wojciechowski said.
Wojciechowski also used the New Jersey Nets' success with Jason Kidd aggressively rebounding at the point guard position.
"I'm not saying Markus is in their category as rebounders, but that's the impact a guard rebounder can have on a team," Wojciechowski said. "It not only finishes a defensive possession, but it's a great start to the offensive possession."
The 5-foot-11 guard's improvements in rebounding will face a bigger test soon with games against Indiana University and No. 2 Kansas coming up Nov. 14 and Nov. 21, respectively.
"Obviously at Indiana, there's not a lot of places that beat that," redshirt freshman Joey Hauser said. "Playing in a hostile environment like that is going to be cool."

About the Writer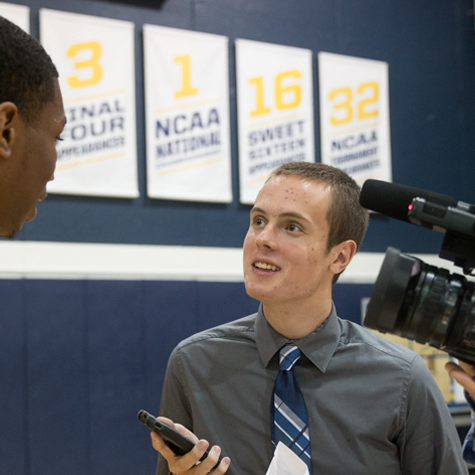 John Steppe, Executive Sports Editor
John Steppe is the executive sports editor for the Marquette Wire. He is a junior majoring in journalism and double-minoring in digital media and Spanish....