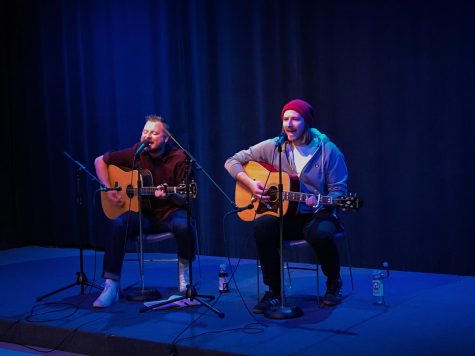 New to the Milwaukee music scene, Flat Teeth, came on to New Music Monday to play songs off their recently released EP 'Winter House'. The band is composed of current and former members of: John the Savage, Twelve Ounce Prophet, Hester Mofet and the Invaders. The EP is a set of six songs, each drawing on 90s melodic indie-rock, very reminiscent of a quiet Nirvana.  The band is a quintet comprised of Nik, Andy K, Ken, Andy O and Brian.
Flat Teeth started off with a rocking performance of 'Side Attack', 'Play Different', 'Grenade' and 'Marksman'. Watch the video down below.
After the performance, Flat Teeth sat down with Marquette Radio to talk about how they blend their sound, the release of their new EP and any upcoming projects. Listen down below.
Flat Teeth will perform at Landmark Lanes on November 9th with prgrphs, and Live Tetherball Tonight. The performance is set to begin at 8:00PM CST.