BEG: Grande controversy sheds light on sexism
This last Friday, politicians, cultural icons, friends, devoted fans and family members came together to celebrate the life of Aretha Franklin. Franklin passed away Aug. 16, and the funeral was held in Detroit — Franklin's hometown.
One of the popular celebrities that attended the ceremony was Ariana Grande, who dedicated a beautiful performance to The Queen of Soul. After she sang "(You Make Me Feel Like) a Natural Woman," Pastor H. Ellis then decided to place his arm around Grande and grope her breast after he labeled her a "new something from Taco Bell."
Because she was standing in Greater Grace Temple in front of thousands of audience members, Grande was forced to awkwardly laugh and push through the inappropriate behavior.
Many women on Twitter stood in solidarity with Grande after the incident to empathize and explain how they are too familiar with the fear while being harassed. They understood the need to not make a scene even while one's body is being completely violated and disrespected.
Ariana Grande is a woman of high status and with wide popularity, and even she is not able to escape the complete horror that is sexual harassment. It did not matter that they were standing in a church or that she was with a pastor — Grande was still obligated to face these actions. It just makes one think of all the horrid situations that are occurring to women not on national television.
Ellis later took to apologize and said, "I don't know; I guess I put my arm around her. Maybe I crossed the border, maybe I was too friendly or familiar, but again, I apologize." There is no sincerity at all found in Ellis' words. It is obvious he does not understand the disrespect he put Grande through.
Ellis was not the only one who completely tried to disregard this. Evidently, many other news agencies also did not realize the gravity of this situation. The next day, people chose to address the wrong part of what happened. Instead of focusing on the outward problem of sexual assault, articles were written with headlines such as "Ariana Grande's Mini Dress at Aretha Franklin Funeral" from Hollywood Life or tweets posted that said "Ariana Grande's ponytail is longer than her dress" and "Ariana Grande needs to fire her stylist, you don't dress like that at a funeral."
It just seems like a joke at this point that people keep trying to blame women for sexual assault because of the clothes they wear. In no way was it acceptable for Grande to get publicly harassed like she was. In no way is it ever acceptable for any girl to be violated because of the choices that she is free to make.
Hijabi women, like myself, are constantly criticized and patronized for choosing to wear a scarf on our heads. People who insult Islam like to believe they have the right to explain how we should dress and live our lives.
All around the world, aggressors have ripped hijabs off women or attacked them, like the hospital visitor in Dearborn or the pregnant lady in France to name a few. This is solely because Muslim women are using their freedom to express their faith and independence through the scarf.
Even though this is another type of clothing that instead allows women to cover up what they please, men and in some cases, other women still have a problem. There seems to be no balance to prevent women from getting harassed, so clearly the harassed women are not the problem here. It is those who think they have the power over women to decide what clothing is comfortable for their own standards that create the problem.
Women do not exist to please the standards of others.
What happened to Ariana Grande is just one incident of sexual assault that the rest of the world observed. There are countless other situations that women must endure without getting support from social media and the public. The victims are not the problem, but rather men who think they have the ability to control our lives and then proceed to blame us when we do not let them.
View Comments (1)
About the Writer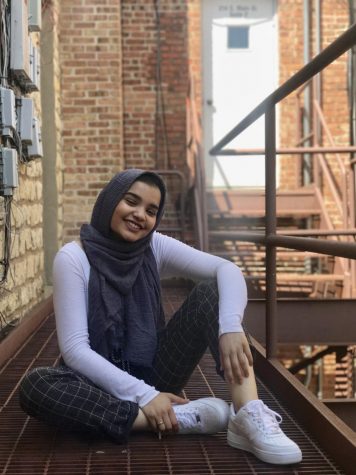 Aminah Beg
Aminah Beg is the assistant opinions editor for the Marquette Wire. She is a sophomore from Naperville, Illinois who is majoring in Public Relations and...