Freshman Popovic develops in top singles, doubles spots
Coming into her first spring season at Marquette, freshman Natalija Popovic never expected she would be vying for the No. 1 doubles spot, let alone the top singles position.
Popovic has accomplished exactly that, appearing in every spring match with senior Paula Tormos Sanchez on Marquette's No.1 doubles team. She also has played all five matches in either the first or second singles slot. In her last match against the University of Illinois-Chicago, Popovic earned her first experience playing on the top court, defeating her UIC opponent in straight sets.
"At first I was surprised that I (was) going to play," Popovic said. "I honestly felt the same. When you're playing for a team, it's not just for you."
Playing for higher up has required some adjustments for Popovic. Head coach Jody Bronson said she knows Popovic is a good competitor, but being a part of a team has placed a greater burden on her.
"Sometimes she feels pressure playing for a team because she wants to do so well," Bronson said. "We're trying to get her to understand that you just go out and play. This is something you've done your whole life."
That added stress initially impacted her confidence, but is gradually improving. "I really enjoy playing for my team," Popovic said. "I don't feel that pressure anymore."
Part of that poise on the court comes from playing with Sanchez on the top doubles team. "She knows (Tormos Sanchez) is a senior, and I think she really listens to Paula and kind of wants Paula to help lead her," Bronson said.
This process includes Popovic learning how to be a more effective doubles player and complement her partner.
Popovic is trying to be more aggressive at the net while Tormos Sanchez has a strong stroke from the baseline. The style of play has worked to their advantage.
Pairing a senior and a freshman is often risky, but Popovic and Tormos Sanchez have the chemistry of an experienced doubles pairing.
"I think both of their baseline games set the other one up at the net," Bronson said. "Natalija's serve is a great weapon for Paula at the net on that next ball coming over. They create a lot of opportunities for each other."
There is one aspect of Popovic's game she's had since the beginning: a powerful serve.
Popovic believes that her serve has always come naturally to her and as a result, is able to be more aggressive for the remainder of the point.
Popovic has also greatly improved her backhand and net game since November, which has made her an all-court player. She can defend at the baseline and finish the point at the net.
The freshman plays tough at the net in doubles, but prefers to be at the baseline working her opponents from sideline to sideline with her groundstrokes in singles.
Moving forward, the Serbia native's mindset of "practice with purpose" has Bronson excited for her next three years as a Golden Eagle.
"She has tremendous potential to really be a very, very good college player," Bronson said. "She's very coachable. She asks questions, she doesn't just assume that she understands or knows the answer to something. Whatever you tell her, she's going to do it."
About the Contributor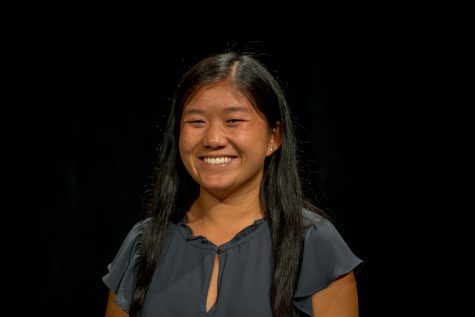 Zoe Comerford, Executive Sports Editor
Zoe Comerford is the Executive Sports Editor for the Marquette Wire. She is a senior from Naperville, Illinois, majoring in Journalism and Digital Media...