All-around play leads Marquette over Xavier in dominant fashion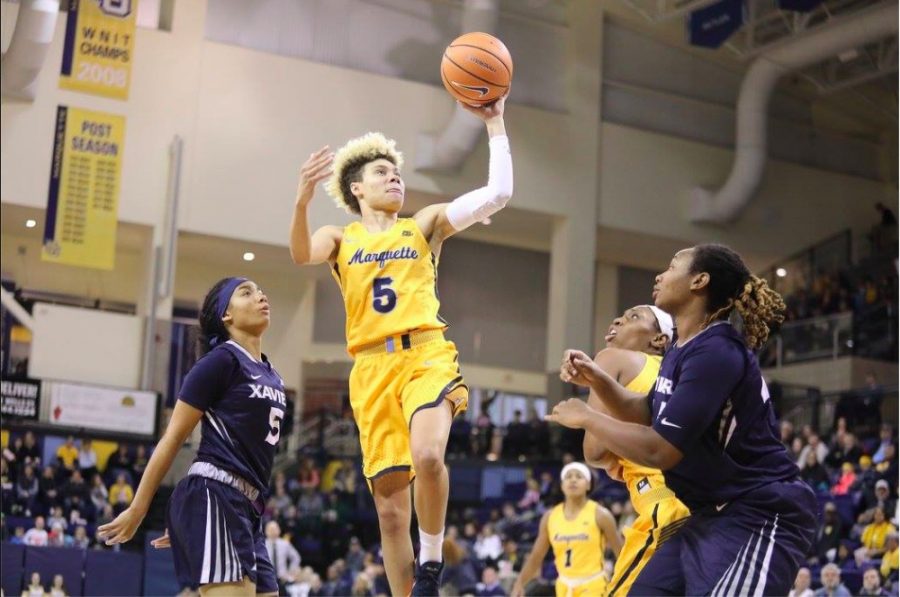 An all-around team performance and a second half surge helped the Marquette women's basketball team dismantle Xavier 88-67 Sunday afternoon at the Al McGuire Center.
The Golden Eagles are still the only undefeated team in the BIG EAST, as they improved to 13-5 and 7-0 in conference, the most consecutive wins in program history to start conference play.
It was a balanced effort for Marquette in terms of scoring, as four different Golden Eagles finished with double figures, and nine players tallied at least a field goal.
"One thing I really like about this team is that every single night somebody else is stepping up,"  said Marquette head coach Carolyn Kieger. "When you're scouting us I think it would be hard to figure out how stop us when everybody can step up and contribute on the offensive end."
Danielle King ended the first half on a highlight, banking in a half-court heave as time expired. King would fill the stat sheet as she finished with 16 points, five assists, four rebounds and two steals.
"I always just try and bring my teammates energy," King said. "Whether it be making shots or creating steals I just try and help my team win."
Coach Kieger praised the performance of the junior guard.

"I thought she played phenomenal tonight," Kieger said of King. "She gets better every night and that is exactly what you want from your point guard."
Kieger also praised King's development as a leader.
"The thing that I am most proud of her is that she is starting to demand," said Kieger. "She is starting to realize how good this team can be, and not accepting anything but her teammates best."
Allazia Blockton scored a game-high 19 points while fellow Milwaukee native Amani Wilborn scored 15 points of her own.
Erika Davenport played 19 minutes, scored 12 points, and grabbed eight rebounds. The junior forward appears to be healthy after suffering a leg injury and having to be carried off of the court just two days ago.
"She battled through and showed her toughness," said Kieger. "The doctor cleared her to go and she rose to the challenge."
The momentum from King's buzzer beater transitioned into the second half as the Golden Eagles exploded for 34 points in the third quarter, the most points they have scored in a quarter all season.
Like most teams the Golden Eagles have faced, Xavier struggled at times to handle Marquette's full court pressure. The Musketeers committed 21 turnovers which translated into 30 points for Marquette.
Defense in the half-court was effective for Marquette as well. They held Xavier to just 38 percent shooting from the field.
Marquette continued its impressive performance at home, as they have now won 15 consecutive games at the Al McGuire Center.
"We feel very confident when we are here," Kieger said. "There's no other place our ladies would like to perform."
Marquette will now have a bit of rest before heading to the nation's capital on Friday to take on the Georgetown Hoyas (7-10, 2-4 BIG EAST). Tip off is set for 6:00 p.m. central time and the game will be televised on the BIG EAST Digital Network.