Ball movement negates Vermont perimeter shooting in Marquette's win over Catamounts
Hang on for a minute...we're trying to find some more stories you might like.
The last time Vermont was at the BMO Harris Bradley Center, Anthony Lamb and Trae Bell-Haynes combined to score 35 points to keep the Catamounts within striking distance of fourth-seeded Purdue in the NCAA Tournament. A strong second half push gave Purdue a convincing 80-70 win.
The Catamounts relied on another player to score 20-plus points in their return to the Bradley Center, Stef Smith. The freshman from Ontario, Canada, scored 20 points on 7-for-8 shooting and perfect 6-of-6 3-point shooting, but the Golden Eagles avoided the upset, winning 91-81 Tuesday night.
"Smith had an unbelievable game. He had a career night," Marquette head coach Steve Wojciechowski said. "There wasn't an indication coming into tonight that he was a 6-for-6 shooter. You knew he was a good player, but this was a little bit of an anomaly."
Facing one of the top mid-majors in college basketball, Marquette turned to sophomore guard Markus Howard to propel its offense. Howard matched his career high with 34 points on 55 percent shooting from the field and 6-for-11 shooting from 3-point range. That included 21 second half points and five rebounds in the second half.
"His pop in the second half was terrific," Wojo said. "His leadership (and) the way he was vocal was awesome."
After a relatively slow offensive start, Howard has scored at least 26 points in each of his last three games.
"Teams have to build their gameplan defense around (Howard)," Heldt said. "When those guys are hitting it, it just makes it that much harder and it opens it up for everyone else. It makes it a lot easier for everyone else."
Howard, Hauser and Rowsey combined for 64 of Marquette's 91 points. Marquette had 36 points from 3-pointers, going 12-of-27 from beyond the arc.
"Even though they've only played one year at Marquette, each of them, we need those guys to be good," Wojo said. "And it doesn't mean they need to score 34 (like Howard), but their heads and their hearts need to be in the right place."
Rowsey's 13 points and 10 assists resulted in a double-double and came after coming off the bench for the second straight game.
"Andrew really, really set the tone for us from a passing standpoint," Wojo said. "For him to have a game where he gets a double-double, has 10 assists and one turnover … he's capable of that."
Marquette finished with 25 assists and only 10 turnovers.
"(Vermont's) defense is really good," Heldt said. "You have to move the ball and attack multiple times … We were patient, we did that and we were able to get a lot of easy baskets off assists."
"We've shot ourself (sic) in the foot offensively with guys at times trying to do it themselves," Wojo said. "Our backcourt was sensational in their decision-making."

Marquette made the decision in its game prep to allow Vermont to shoot the 3-pointer. That came back to haunt the Golden Eagles, as the Catamounts scored almost half their points from behind the 3-point line.
Smith was not the only Catamount to stand out offensively. Anthony Lamb, Payton Henson and Ernie Duncan also finished with double-digit point totals.
The Golden Eagles' win came despite a sluggish offensive finish, going scoreless for the last three minutes and 59 seconds.
Marquette will play another team from last year's NCAA Tournament field Saturday as the Golden Eagles visit in-state rival Wisconsin. The Badgers are coming off a 64-63 win over Penn State and will play Temple Wednesday.
"That's one of the big games on our schedule," junior center Matt Heldt said. "That's definitely a game everyone is excited for. You don't need to find any way to get energy."
Heldt and fellow big man Theo John will have the challenge of taking on All-American center Ethan Happ. The junior forward averages 15.4 points per game this season.
"Wisconsin is a heck of a team," Wojo said. "Greg (Gard) is a hell of a coach. It's going to be a really tough place to play and we have a short turnaround to get ready for it," Wojo said. "If you're starting your team with (Happ), you have a pretty darn good team."

About the Writer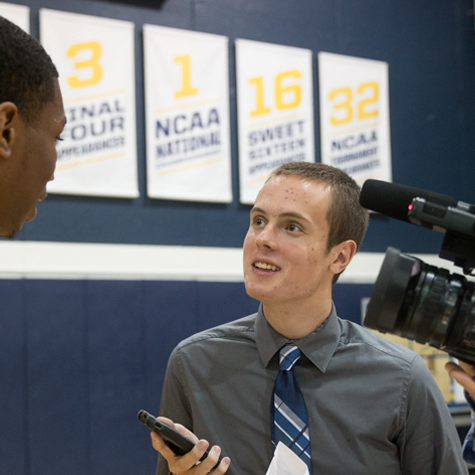 John Steppe, Executive Sports Editor
John Steppe is the executive sports editor for the Marquette Wire. He is a junior majoring in journalism and double-minoring in digital media and Spanish....