Moon Taxi has MKE 'Put 'em Up' at the Pabst
Hang on for a minute...we're trying to find some more stories you might like.
"We were trying to think before (the set) if we've ever played a proper Milwaukee club show," lead singer Trevor Terndrup told the crowd about mid-way through Moon Taxi's Thursday night set at the Pabst. "We've played Summerfest a few times but this is our first official Milwaukee show." The crowd's acknowledgment of excited applause and cheers served as a warm welcome for the Nashville group here in the Cream City.
Kicking off the night earlier was Too Many Zooz, an electrifying "brasshouse" trio from New York. Their performance is something you need to see to believe. Jumping and swinging, high-kicking and hyping the crowd with his hands like a rapper are just a few of the moves sax player Leo Pellegrino does, posing the question: How in the world can he be doing all this and simultaneously make such wild saxophone sounds? The band's drummer and percussionist, David "King of Sludge" Parks, utilizes a marching band bass drum rigged up with cowbells and whistles. Rounding out the trio is trumpet player Matt Doe, who balances the frenetic energy of his bandmates with an effortless cool (he played the majority of the 45-minute set with the trumpet in his right hand and his drink in the left). No matter the person's take on house music, if you put anyone in the crowd at a Too Many Zooz show they will walk away a fan.
After the energetic opener, the crowd was primed for Moon Taxi to take the stage on the Milwaukee leg of their "Put Em Up Tour." The five-piece band comprised of bassist Tommy Putnam, guitarist Spencer Thomson, keyboard player Wes Bailey and drummer Tyler Ritter has been putting out music and touring extensively since the members graduated from Belmont University in 2006. They've released three full-length albums to a good deal of critical and commercial success, but have been riding a wave of increased popularity since the release of their most recent single "Two High" this past May.
Thursday's set was a great primer into the band's catalogue. Reaching from the 2012 LP "Cabaret" to new tracks from their upcoming album, it reflected a tight and talented group of musicians who are in it for the long haul. A couple songs in, the group started to hit a stride and began exerting a commanding stage presence they sustained for the remainder of the night. Terndrup struts regularly across the whole of the stage during solos and commands the room like a stadium, a clear nod to the experience they've gained from major festival sets they've done across the country. At one point during their set staple "Morocco," a stagehand emerged with a hoverboard that Terndrup boarded for a song-closing solo. The equally impressive feats of balance and musicianship combined for a moment that had the collective audience's jaws dropped. Towards the end, the band broke into a supremely impressive high-octane cover of Jimi Hendrix's "All Along the Watchtower." Their musicianship was on display best during this song, bouncing from member to member for solos and even including a jazzy piano breakdown in the middle. By the end of the night the band brought out Matt and Leo from Too Many Zooz to help on the tour's namesake song "Two High," a triumphant close to an impressive collection of songs.
The set mixed in a good handful of unreleased tracks from their as-yet-unannounced next album, but based on crowd reaction and band energy, expect it to be big for the band. It wouldn't be surprising if their next touring cycle brings Moon Taxi back to Milwaukee for their second headline spot here; it would behoove any music fan to not miss the reprise to their electrifying Pabst set.


About the Writer
Jimmy Drenovsky, Assistant Publicist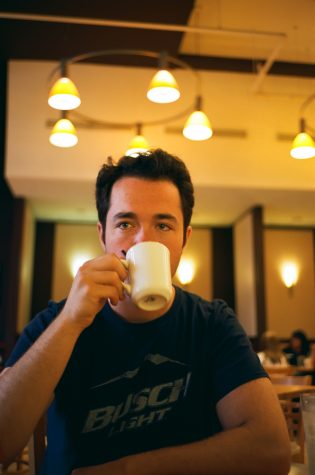 Jimmy Drenovsky is a junior at Marquette who spends most of his time procrastinating his engineering responsibilities by finding new and obscure music through various avenues. He gets a sick thrill out of talking about bands no one's heard of with strangers and acquaintances alike. Born and raised in Chicago, Jimmy has found a new home in the Cream City. When not doing music or radio things, Jimmy can be found gallivanting around Milwaukee searching for good food and good people.