Sunday was a really good day to be down at Atwater Beach on Milwaukee's north side, where the sand is soft and the internet connection is mercifully spotty. Normally, the latter would drive me insane, but there was an outbreak of people shouting at each other over the internet that I was thankful to miss. Suffice it to say there are some fans and professional athletes that really need the college basketball season to just start already. (See slideshow below for details.)
There was pretty much nothing of importance in this latest spat between fans of the University of Wisconsin-Madison and Marquette University beside the fact that Marquette didn't think Sam Dekker was athletic enough to recruit. That was moderately interesting and would be a fascinating question to ask former head coach Buzz Williams if he were still at Marquette, but it's old news. I was just about to chalk it up as nothing more than a bunch of people missing a perfectly fine beach day. Then this tweet from Tom Oates, a sports columnist at the Wisconsin State Journal in Madison, came across the newsfeed.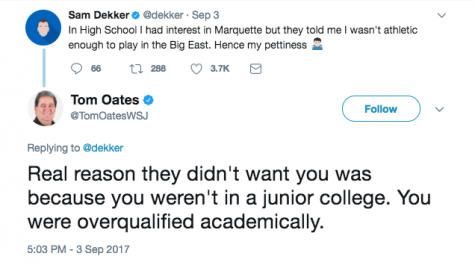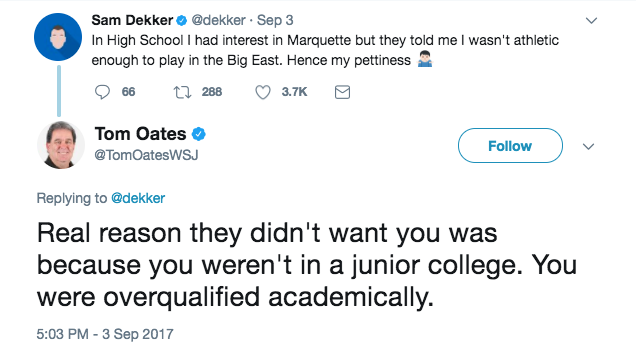 My first thoughts about this were similar to those of Marquette fans. I thought it was an evidence-free cheap shot against Marquette and totally unbecoming of a journalist. Given the context that more white players have gone to Madison in recent years, and Marquette's junior college recruits were mostly African-American, the comments also appeared as racially tinged.
I then reached out to Oates via email. Here's the relevant portion of the email: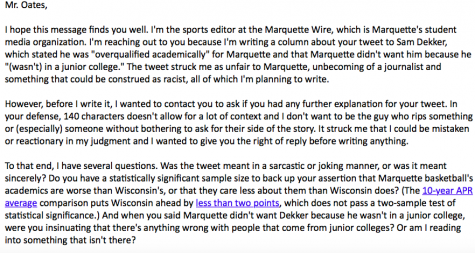 Allow me to first give Oates credit for sending his reasoning over to me. He was certainly under no obligation to do so, but he made some points and took the time to defend them. Here is what he said: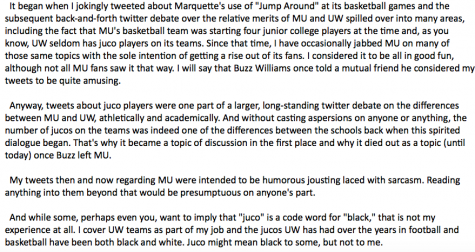 The first thing to notice is that this tweet was, at least from Oates' perspective, "sarcastic" and made "in good fun," which has some merit. There's a tendency to see the tweets from your own side as the kind of light-hearted, needling messages that make a rivalry great, and tweets from the other side as something more nefarious. There's going to be a certain amount of unavoidable bias in my viewpoint purely by virtue of being a Marquette student, and writing for a Marquette audience.
That said, there are a few problems here. Firstly, although Oates' claim that four junior college players started for Marquette in 2010-'11 is true, Dekker would have joined Marquette in 2012-'13, a season in which the Golden Eagles suited up exactly zero junior college transfers. In fact, ever since Jae Crowder and Darius Johnson-Odom graduated in 2012, no junior college player has taken the floor for Marquette. That includes the last two seasons of Williams' tenure as head coach.
All of that is the secondary issue, though. Despite Oates saying that reading into his community college line is "presumptuous on anybody's part," it's telling that this seems to be one of Oates' favorite insults. He used it to disparage Marquette for allegedly stealing "Jump Around" from the Badgers in 2011 and did so once again in a tweet the next day.
Oates admitted in his email that his tweets were "unsubstantiated" and were sent "with the sole intention of getting a rise out of (Marquette's) fans." I should hope so. Jimmy Butler started at Tyler Junior College in Texas because he literally had no place to go after being homeless at age 13. Jae Crowder took a double course load at Howard College and did summer school, all while playing basketball, just to be able to transfer to a Division I program. Darius Johnson-Odom and Joe Fulce both came to Marquette basketball from junior colleges and graduated.
Unsubstantiated, indeed.
This is not to cast aspersions on anyone's career path. There are plenty of junior colleges that are not academically rigorous. Wisconsin fans could also easily point out that Marquette luminaries Dwyane Wade and Henry Ellenson never graduated (even though Wade said he would like to), while Badgers star Frank Kaminsky did. Wisconsin basketball's average Academic Progress Rate, a metric that the NCAA uses to measure success in the classroom, even exceeds Marquette's from 2004 to 2015, albeit by a negligible amount. (958.6 to 956.7 is the exact margin, with both figures being below the most recent four-year men's basketball APR average of 966.) The whole graduation-as-proof-of-morality angle is illogical anyways, but if either side wants to have that argument, there's more than enough ammo to go around.
That leaves the racial angle that was the initial flashpoint for this whole thing. I certainly never thought that Oates was a bad person or a racist. To me, Oates seems like a pleasant guy that likes to mess with Marquette fans and in doing so, sent off a tweet that some consider to be inelegantly worded and unintentionally mean-spirited. But hey, who among us on Twitter hasn't sent something that could be construed that way at least once? If you looked back far enough on my Twitter, you'd find some tweets with accuracy or tone issues that probably shouldn't have been sent.
However unintentional it was, Oates telling Dekker that he was "overqualified academically" for Marquette is still not entirely kosher. Oates even inadvertently admits this in his email when he said, "Juco (an abbreviation for junior college) might mean 'black' to some, but not to me." That's exactly the issue. Once Oates posted his tweet, whether or not "junior college" meant "black" to him is immaterial. The message's consumers define the meaning, especially on social media. Going from "Marquette doesn't want non-junior college players" to "Marquette doesn't want smart, white players" isn't a large stretch for people who want to read it that way, especially considering that every junior college player in the Williams era was black.
One might critique this argument for being entirely hypothetical, for ascribing far worse meaning to Oates' words than an average person ever would. It would be great if that were the case, but unfortunately, it isn't. Just in the last year, a Wisconsin fan chastised black player Nigel Hayes for wearing dreadlocks, and another wore a costume of former President Obama in a noose. Oates' tweet also harkens back to the "you're stupid for not choosing Wisconsin" messages that Badger fans sent to Diamond Stone, a highly-regarded in-state center that chose to attend the University of Maryland. (Joey Hauser got similar messages after choosing Marquette, albeit not nearly as many or with as much vitriol.)
None of those incidents are in any way Oates' fault, of course, and the actions of a few bigots don't come close to reflecting the attitudes of all Wisconsin fans. It's still not a great look for a columnist, someone who is supposed to maintain at least a veneer of impartiality, to tweet directly at an athlete to congratulate him for supposedly being too smart to go to a rival college. Even if Oates meant the comment purely in jest, there's a sizable audience on both sides of the I-94 rivalry that didn't see it that way.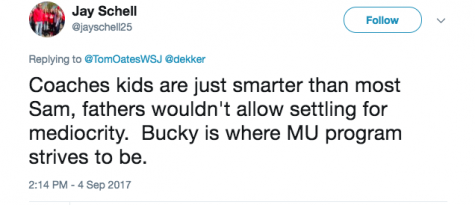 Corresponding with Oates via email made me realize something: People are hardly ever the way they're portrayed by their detractors. Without knowing anything about Oates, I expected him to either ignore my email or send something along the lines of, "Suck it up, snowflake." Instead, he took the time to go through everything, answering my questions point by point. I still don't buy the thrust of his argument and he might not buy a lot of this column. Still, by taking the time to reach out, it was possible to get a much better perspective than if I'd viewed him as a trolling caricature, and it's a credit to him that he was willing to provide that perspective.
At the end of the day, everyone likes a good college basketball rivalry, even the journalists. There's nothing wrong with a little, or even a lot, of hearty trash talk. It can quickly veer off the rails into a dark, unintended place, though. Everything after the "send" button is out of the writer's hands and into those of the masses, many of whom don't follow up for clarification.
Correction: An earlier version of this article stated that Marquette did not sign any junior college players after 2012-'13. Marquette signed two junior college players after that date, Jameel McKay and T.J. Taylor, although both transferred without playing a minute for Marquette.