JUCO transfer Ehlert adds experience to men's lacrosse
Hang on for a minute...we're trying to find some more stories you might like.
When men's lacrosse coach Joe Amplo was adding the finishing touches to his 2016-'17 defense, he felt the group needed experience.
"We just felt we needed someone to come in to compete to start right away and not develop," Amplo said. "We needed that with losing everybody. We didn't want to have all freshman down there."
The Golden Eagles found the answer in their email.
Jackson Ehlert was overlooked in recruiting coming out of high school and needed to work on improving his grades. He started his college career playing junior lacrosse at the Community College of Baltimore County-Essex, but even early in the season he was sending his high school highlight tape to every Division I coach he could find.
"I didn't get a ton of hits, to be honest," Ehlert said. "I figured if you throw out a big net you'll at least get a couple of hits."
Not surprisingly, the list of options included Marquette. Amplo forwarded Ehlert's inquiry to then-assistant coach Andrew Stimmel, who saw something in his game. Assistant coach Steve Brundage told Ehlert the staff was particularly impressed with his stick skills.
The program hasn't added many junior college players since the first class because Amplo likes getting four full years with his players. However, knowing they'd still get three years of Ehlert's services made him an attractive option. The staff decided to follow up.
"I was really excited," Ehlert said. "If I could pick a top ten out of schools I'd think I would go to, Marquette would be at least in the top ten."
Marquette wasn't the only school Ehlert impressed. His transfer decision came down to Marquette and Richmond, but his relationship with fellow defenseman Nick Eufrasio, who hosted him on his visit in May, and the coaching staff pushed him to Milwaukee.
"I thought there was a huge future for this program," Ehlert said.
He's filled the role Amplo expected him to so far this season, and has started in all four of Marquette's games. The skills he brought to CCBC Essex, which gave up just 5.4 goals per game and made it to the junior college semifinals last year, translated to the Division I game.
"(He brings) just a toughness, a presence," Amplo said. "That's kind of an innate ability. … You feel Jackson Ehlert when he's on the field."
"We could tell right away in the fall he had the ability to play Division I attackmen and lock them down,"  assistant coach Jake Richard said. "He has that chip on his shoulder. He plays with a competitive edge."
He's not perfect though. There are some mistakes you can get away with at the JUCO level that don't fly in Division I, and while his on-ball defense is impressive, his off-ball technique needs work.
"Last year we didn't talk a lot about off-ball defense or sliding," Ehlert said. "I just played. … Now that I'm at D-I I need to think about the game a lot more."
"No one really learns it in high school, and I guess they didn't really develop it too much in his junior college year," Richard said. "It's evident that he can cover with the best with athleticism. Now it's just developing his mind at the Division I level."

About the Writer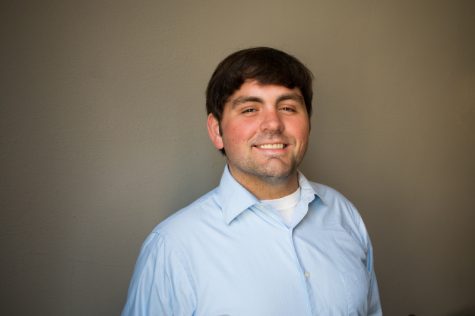 Jack Goods, Sports Editor
Jack Goods is the sports editor of the Marquette Wire, covering the men's soccer, basketball and lacrosse teams. He is a senior from Buffalo, New York...