Short-handed Golden Eagles survive St. Francis
Hang on for a minute...we're trying to find some more stories you might like.
The Marquette Golden Eagles edged St. Francis-Pennsylvania 75-68, despite 15 turnovers and poor defense.
Marquette came out of the gates with excellent 3-point shooting, hitting five of their first seven 3-point attempts. As a result, the Golden Eagles had a dominating 15-7 early lead.
"The shots were just there, and that's how it's going to be for us because we have a lot of shooters," guard Andrew Rowsey said. "Any night we can shoot a lot of threes or not shoot a lot of threes, so it was just the way the game was going tonight."
"We really wanted to get (the ball) into (Luke) Fischer, but the threes presented themselves," head coach Steve Wojciechowski said. "We took what the defense gave us."
However, the team went from one extreme to another, missing four of their next five 3-pointers.
The team's persistence from 3-point range came at a steep cost as Marquette did not score a 2-pointer until the 11:14 mark in the first half. At the same time, Rowsey's high volume of shots from long range helped him achieve a season-high 22 points.
The team was able to expand its lead to 18 late in the half despite nine first-half turnovers.
"That's big because coach Wojo always emphasizes turnovers," Rowsey said. "He's always getting on us in practice about turnovers."
The Golden Eagles' offense fell apart in the second half, allowing St. Francis to cut their deficit to just 6 points on multiple occasions. It was compounded by going nearly eight minutes without a field goal later in the half.
"We're coming out of halftime nonchalant sometimes, especially when we have these leads," Rowsey said. "It's also something coach Wojo has been pushing towards us in practice, coming out in the second half and treating it just like the first half."
The team stopped the streak with 3:27 remaining via a Sam Hauser 3-pointer. Hauser sparked a new wave of offense, as the team scored in each of their next three possessions.
"I was proud we had three really good offensive execution possessions when there was a lot of game pressure on us," Wojciechowski said. "We did some winning things."
The team's defensive shortcomings against St. Francis, whom KenPom ranked as 323rd among Division I schools entering Monday's matchup, coincides with the departure of point guard Traci Carter. Carter was the team's only defensive-oriented point guard on the roster.
"Traci was like brothers with all of us, so (him leaving) hurt us all," Rowsey said. "He was a huge part of this team."
"It's next man up," Wojciechowski said. "Our guys should be focused on who's in the foxhole with us, not who left."
Carter's absence was amplified by Markus Howard missing the game with a concussion he suffered in practice. Katin Reinhardt was also out with a lower leg injury, leaving Marquette with only seven scholarship players available Monday. Both injuries occurred in practice last week and have uncertain statuses for Wednesday's game against SIU-Edwardsville.
"It was a day before the game that we realized we only had seven," Rowsey said. "We had to roll with it. … It's what we got."
Many of Marquette's team leaders had mixed results Monday night. Jajuan Johnson finished with 11 points, 11 rebounds, six assists and four blocks, but also five turnovers.
"He had some real high moments, but he also had moments that he would like to take back if he could," Wojciechowski said. "We're at our best when JJ is playing really well."
Fischer, meanwhile, finished with 11 points on 4 for 13 shooting and five rebounds.
"It was shocking for me to see Luke shoot like he did," Rowsey said. "Hopefully that was just a bump in the road and we'll be fine from here."
The team's frequent miscues in the winning effort left the team with mixed feelings.
"It's tough making it a close game like that, especially at home," Rowsey said. "It's all part of the process … we'll bounce back."

About the Writer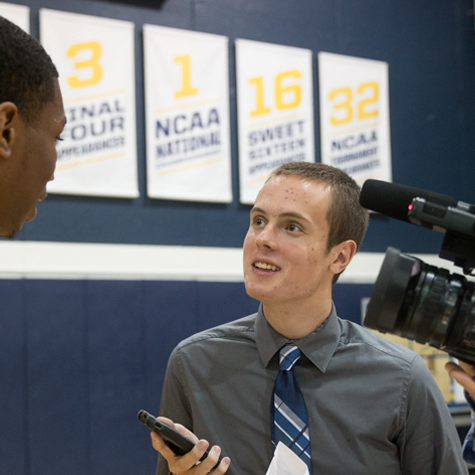 John Steppe, Executive Sports Editor
John Steppe is the executive sports editor for the Marquette Wire. He is a junior majoring in journalism and double-minoring in digital media and Spanish....