Pita Brothers partners with GroupRaise, aims to get more customers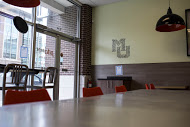 Pita Brothers, a restaurant in the 16th block of West Wisconsin Avenue, recently partnered with GroupRaise, a company that connects local restaurants with fundraising groups.
With GroupRaise, an organization can choose a time slot at a restaurant during which supporters can show up and dine to benefit the organization. Then 15 to 20 percent of the money made during the time slot goes to the organization.
Pita Brothers has not gotten any fundraising customers since signing up for GroupRaise last week. Vijay Swearingen, a co-owner of Pita Brothers, hopes that the GroupRaise affiliation will help bring in more customers.
"We have loyal clientele, but we just need to get more people in here," Swearingen said. "We're surviving on the regulars."
Pita Brothers began as a mobile food truck in 2009. It gained popularity on Marquette's campus and, in September 2014, purchased the building its in now. That location opened June 3.
Since then, Swearingen and his brother Manoj Swearingen, the other Pita Brothers owner, have been struggling to bring in customers.
Swearingen said Pita Brothers' brick-and-mortar debut happened at an inconvenient time. It opened right after graduation, when many loyal Marquette customers were not around to visit.
"I pass it all the time when I'm walking from Straz to Mashuda," said Brandon Crowe, a sophomore in the College of Business Administration. "It's always looked interesting, but I've never gone."
Paige Bintz, a sophomore in the College of Health Sciences, said she's seen people advertise outside of the restaurant but she has never been inside.
"I'm surprised more people don't go there because they take MarquetteCASH and everything," said Michaela Walters, a sophomore in the College of Communication and regular visitor to Pita Brothers. "I go there all the time, I have a rewards card and everything."
Besides being located on campus, Pita Brothers donates to various Marquette-affiliated groups and events such as Relay for Life. It also gives out gift certificates during trivia night at the Annex.
"We don't often say 'no' (to donating)," Swearingen said. "We want people to think, 'they're not giving much, but they're giving something."'
Leave a Comment