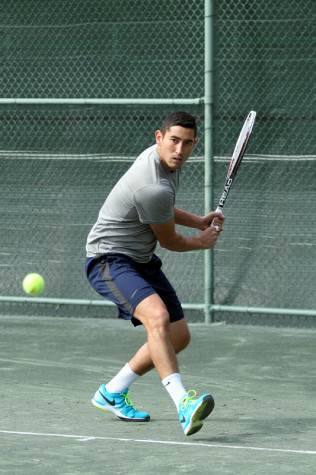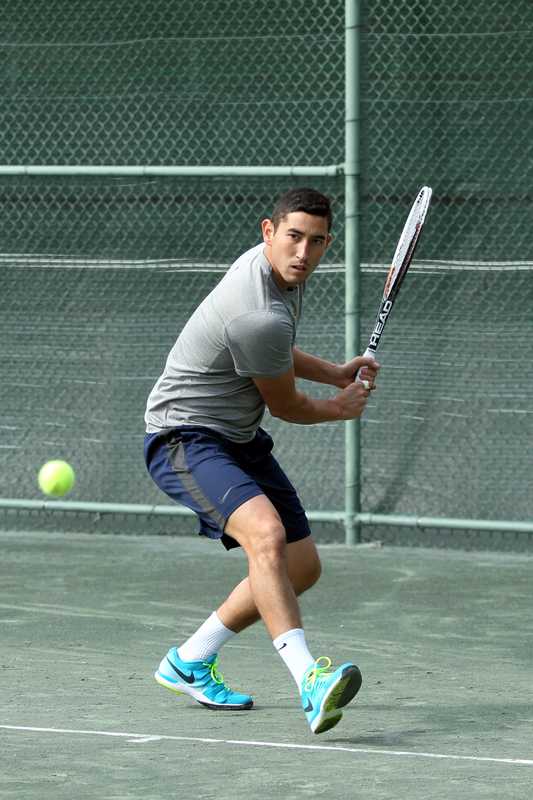 Daniel Fernandez became the first Marquette player to win a singles title at the 40-year-old Milwaukee Tennis Classic in September.
"I felt he did a really good job this weekend of doing the things we have been talking to him about," men's tennis head coach Steve Rodecap said after the tournament. "I think he played within himself for the majority of the tournament and he did a nice job of staying composed … He played three matches that were pretty complete."
Fernandez jump-started the season in dominant fashion, dropping only 14 of the 50 games he played over the weekend tournament in Fox Point.
"I am extremely happy," Fernandez said after the tournament. "It is a very special tournament for Marquette, and I am happy to have won."
– John Hand
After a rash of offseason transfers, very few people thought Marquette volleyball would be as strong as they had been in years past. Head coach Ryan Theis, however, was not one of those people.
"I'd like to think that kids are coming to Marquette with the intention of competing for an NCAA Tournament, and I don't think we're ever going to waiver from that being the goal," he said.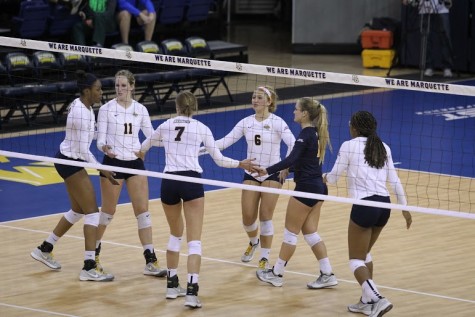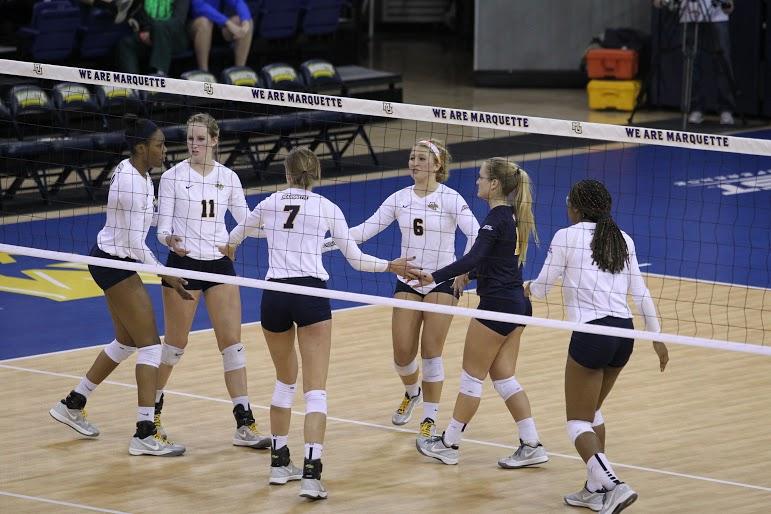 Theis' team quickly showed why it deserved that boost of confidence, beating four top-50 RPI teams in the non-conference schedule. Although the team stumbled through BIG EAST play with a somewhat pedestrian 12-6 record and lost in the conference tournament semifinals, it still finished the regular season 21-11. That was good enough for the program to makes its fifth consecutive NCAA tournament, where the Golden Eagles won their first-round matchup against Northern Iowa before bowing out to No. 2 Minnesota.
Redshirt freshman Taylor Louis and redshirt junior Meghan Niemann propelled the offense, while junior Lauren Houg provided equally stellar defense. Houg averaged 5.18 digs per set and broke the Marquette single-season digs record with 641.
Next year, Marquette will feature six seniors on their roster along with highly regarded underclassmen such as Louis, redshirt freshman outside hitter Amanda Green and redshirt freshman middle hitter Jenna Rosenthal. That blend of experience and youth should make the 2016-'17 Golden Eagles an even more dangerous team than they were this year.
– Andrew Goldstein
Two of the recent stars of the Marquette men's soccer team were both selected in the MLS SuperDraft in January: defensive back Axel Sjoberg to the Colorado Rapids and goalkeeper Charlie Lyon to the Seattle Sounders. Sjoberg was selected in the first round, 14th overall, making him the highest drafted Marquette player in the 20-year MLS history. The Rapids traded up to make the pick, which was originally owned by the Columbus Crew. Lyon was taken with the 13th pick of the fourth round.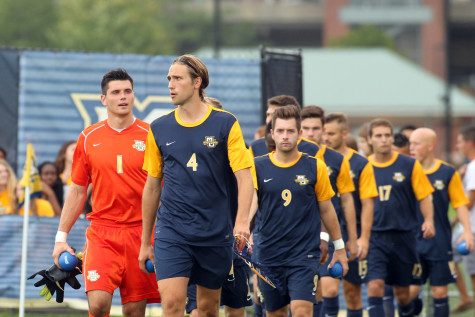 The pair graduated as two of the most decorated players in Marquette history. Sjoberg was named the BIG EAST Tournament's Most Outstanding Defensive Player and made the BIG EAST first team in 2013. He won three BIG EAST Defensive Player of the Week awards his senior year, in addition to being named the conference's preseason Defensive Player of the Year. Lyon was the BIG EAST co-Goalkeeper of the Year his junior season, and graduated with the program record for shutouts, consecutive clean sheets and consecutive shutout minutes.
At 6-foot-7, Sjoberg is the tallest player in MLS history and started all 14 of his caps with the Rapids, totaling over 1,200 minutes in his rookie season. Lyon spent most of the year with S2, the Sounders' minor league team in USL Pro, but did sign on as the top squad's third-string goalie in March. He made 24 appearances for S2.
It was the second MLS draft in a row and the third in four years that a Marquette player was taken. Bryan Ciesiulka was taken in the fourth round in 2014 by Chicago, and Calum Mallace was taken in the second round of the 2012 draft by Montreal.
– Jack Goods
Taylor Louis finishes top-5 nationally in kills per set
There's only one word to describe redshirt freshman Taylor Louis' first season in Division 1 volleyball: exquisite. She arguably had one of the best individual season in Marquette volleyball history, breaking the single-season program record with 611 kills, becoming the first-ever Golden Eagle to amass at least 600. She consistently topped the DI statistics lists in total kills and kills per set, finishing fifth in the country in kills per set (4.93).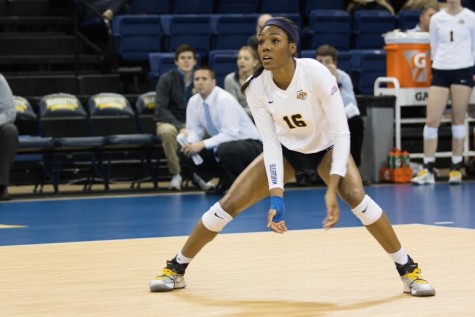 En route to leading Marquette to its fifth consecutive NCAA Tournament appearance, Louis contributed at least 20 kills in 13 of Marquette's 34 contests, including a whopping 30 kills in four sets against Missouri State Sept. 5.
The accolades don't seem to end, either. She was a unanimous selection to the All-BIG EAST First Team, voted to the BIG EAST All-Tournament team, and most recently was elected to the American Volleyball Coaches Association All-East Coast Region, which puts her name in the conversation to be an All-American.
– Peter Fiorentino
They had to fight for it, but once the comeback was complete and the dust settled, it was Marquette hoisting the 2015 Men's Golf BIG EAST championship trophy. The team was down eight strokes to DePaul entering the final day of play, but a gutsy performance by junior Patrick Sanchez and his 3-under-par round helped lead the comeback.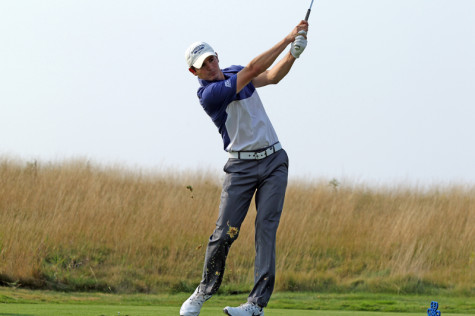 "(I was) playing one shot at a time and being able to handle my nerves under pressure," Sanchez said after the tournament. "I knew we had to play really well to have a chance, so it came at the right time."
Although Sanchez had a strong showing, it was a total team effort that fueled the drive to the team's second conference championship in school history and the first in head coach Dan Bailey's five seasons at Marquette. Two Golden Eagles finished in the top-10, including Sanchez and senior Brandon Cloete.
"For these guys to come back from eight strokes in nine holes, man that's what champions are made of and this team proved they are true champions this weekend," Cloete said of the championship performance.
Though the team fell in NCAA regional play in Noblesville, Indiana, the season was a huge step forward for the program in the national landscape.
– Jamey Schilling
Wally Ellenson jumps into national track and field spotlight
Before starting his basketball career at Marquette, Wally Ellenson put the Golden Eagles' track and field program on the radar due to his high jump abilities.
Ellenson took fifth place in the high jump at the NCAA Track & Field Outdoor Championships in Eugene, Oregon June 12. Ellenson was tied for first place after clearing 2.19 meters (7-2.25 feet) before brushing the bar on his final two jumps. The finish earned Ellenson All-American status for his third straight year and his first since transferring to Marquette from the University of Minnesota.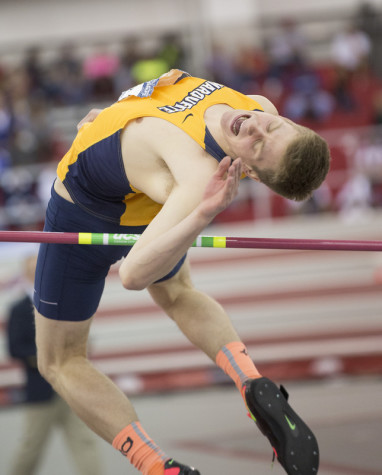 Just two weeks later, Ellenson was back in Eugene for the USA Track and Field Outdoor Championships. He cleared the opening height of 2.15 meters (7-00.5 feet), but missed the next height. He finished 12th out of 19 competitors.
The USATF finish capped off a stellar first year at Marquette for Ellenson in which he set the school high jump record, clearing 2.28 meters (7-5.75 feet).
The Rice Lake native also was the BIG EAST champion in high jump for both the indoor and outdoor seasons and was named Most Outstanding Field Athlete at the BIG EAST indoor meet. Marquette's track and field program named Ellenson co-Most Valuable player for the men's team.
– Robby Cowles
The recruiting quintet of Henry Ellenson, Haanif Cheatham, Traci Carter, Sacar Anim and Matt Heldt entered Marquette ranked the 10th-best recruiting class in the country by both ESPN and Scout. Steve Wojciechowski's first recruiting endeavor put the Golden Eagles back in the spotlight, but work was to be done with only four returning players from 2014-'15.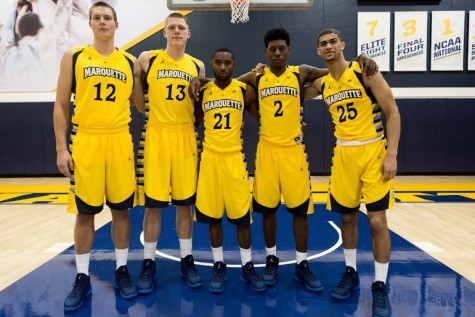 So far, all five freshmen have seen floor time, led by Ellenson, Cheatham and Carter, who have established themselves in Marquette's starting lineup. Ellenson has lived up to the hype, averaging 16.8 points and 9.8 rebounds through nine games. He's quite easily the second-best freshman in the country behind LSU's Ben Simmons, who Ellenson handled well in the Legends Classic in New York Nov. 23.
Cheatham and Carter, meanwhile, have jolted Marquette's offense and are turning heads. Cheatham has started every game due to his scoring abilities – he's averaging 10.3 points per game while shooting 55.8 percent from the floor. Carter struggled early on as the team's point guard, but has since kept the careless play in check with and assist-to-turnover ratio of 2.12.
As the freshmen garner more game experience, the Golden Eagles will have to rely heavily on their increasingly effective young players to make a postseason push in 2016.
– Dan Reiner