Fernandez captures MU's first MKE Tennis Classic singles title
Senior Erin Gebes received community service award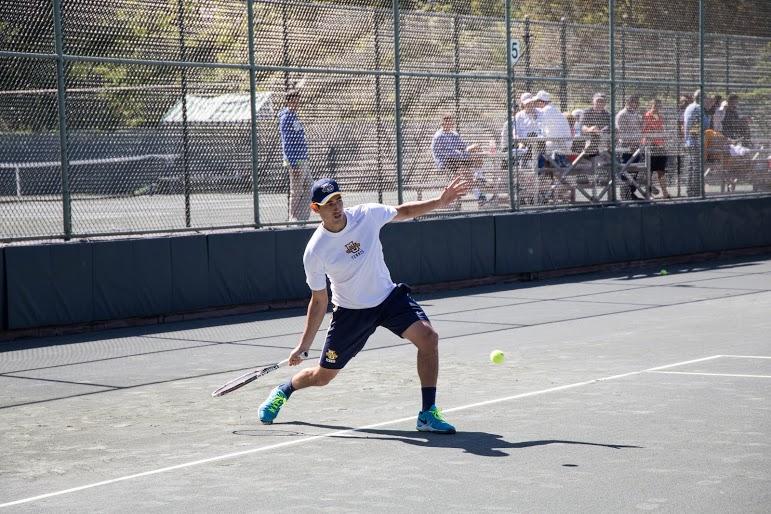 John Hand, john.hand@mu.edu
September 22, 2015
Last week, Marquette senior Daniel Fernandez said that his first goal of this season was to win the Milwaukee Tennis Classic.
On Sunday afternoon at the Town Club in Fox Point, Fernandez accomplished what he set out to do. After accumulating 24 points throughout the weekend, (eight points were given to the winner of each No. 1 singles match) Fernandez became the first Marquette player in the history of the 40-year-old Milwaukee Tennis Classic to win a singles title.
"I am extremely happy," Fernandez said. "It is a very special tournament for Marquette, and I am happy to have won."
Fernandez was dominant throughout the weekend winning 6-2, 6-4 on Friday, 6-2, 6-0 on Saturday, and 6-2, 6-4 on Sunday. Fernandez adapted quickly to the clay courts at the Town Club thanks to years of experience playing on this same type of surface in his native Mexico. He put an exclamation mark on his performance on Sunday when he served three aces.
"I felt he did a really good job this weekend of doing the things we have been talking to him about," said men's tennis head coach Steve Rodecap on Monday. "I think he played within himself for the majority of the tournament and he did a nice job of staying composed … He played three matches that were pretty complete."
Junior Mackenzie Stearns also put together a stellar singles performance for the Golden Eagles and came just one match short of placing as the runner-up for men's singles title.
The men are sending four players, Alvaro Verdu, Andre Romanello, Gleb Skyr and Scott Christian, to the Purdue Fall Invitational next weekend.
Overall, Rodecap was pleased with the way his team improved each day of the tournament. That feeling was mutual for Marquette women's tennis coach Jody Bronson.
"I think we came out a little flat for whatever reason," Bronson said. "I think the fact that we saw improvement each day was definitely positive … [By Sunday] we were more relaxed and played longer points."
The Golden Eagles went into the Milwaukee Tennis Classic without much practice time and are still experimenting with their doubles teams. However, Bronson may have found a doubles team in freshman Slivia Ambrosio and senior Erin Gebes. At the No. 1 doubles position, the duo won two out of their three matches, and were the only doubles team that coach Bronson kept together for the entire weekend.
One of the highlights for the women's team came off the court on Saturday night, when retired Command Sgt. Maj. Frank Parker presented Gebes an award for her volunteer work with the Life After Tennis Consulting Group's summer project, a plan for a tennis camp at Brown Deer High School.
"I am very proud of her," said Bronson. "The commitment of a Division I sport along with academics takes a lot of time. [Erin] has done a great job helping people with certain projects. The momentum that she received from Sgt. Maj. Parker is something she should keep on display forever because there is so much meaning to it."
The women will travel to Indiana this weekend to compete in the Hoosier Classic.