Men's tennis completes big comeback at DePaul
Women drop match despite early upsets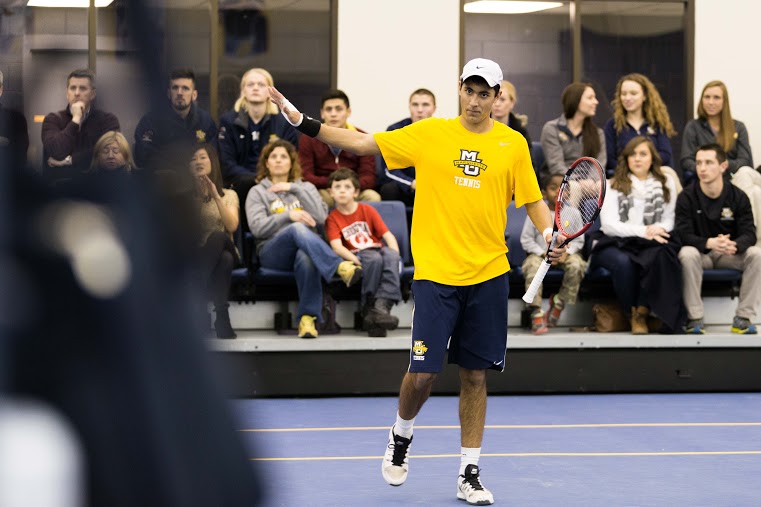 John Hand, john.hand@marquett.edu
April 27, 2016
Both of Marquette's tennis teams concluded their seasons last weekend against DePaul in Chicago. The women were unable to pull out one last team victory, falling 5-2 to DePaul, while the men's team was able to get a 4-3 victory in an instant classic match.
Heading into the DePaul match, men's head coach Steve Rodecap knew his team had to be locked in from start to finish because of the longstanding rivalry between the two programs.
Nothing went Marquette's way in the early going. The Golden Eagles opened the match by dropping the doubles point. Daniel Fernandez was the only singles player to get off the court quickly with a 6-4, 6-4 win, but Marquette found itself down 3-1 after four.
The Golden Eagles needed to sweep the remaining three points for victory. No. 5 singles Greg Anderson won the first set, but lost the second. At No. 2 singles, Alvaro Verdu also lost his second set after winning the first set, and No. 4 singles Mackenzie Stearns served at 5-4 in third set, but was unable to seal the deal and allowed his opponent to tie. Stearns then lost another game to fall back 6-5, but Stearns battled to tie the score at 6-6 and force a tiebreaker. In the seven-point tiebreaker Stearns went down 6-3. He then stormed back again with four straight points to clinch the win 4-6, 6-3, 7-6.
"What Mack did was the focal point of the day," said Rodecap. "In the past Mack has always been a really good front-runner. When he gets out and he feels good he normally does really good. He didn't necessarily play great, but he competed better than he played."
Following the conclusion of Stearns' match, Verdu went up 4-1 in the third set and eventually went on to win the match 7-5, 6-7, 6-1 and tie the overall score at 3-3. Everything came down to Anderson's match. Anderson was up 5-2 in the third set, but his opponent fought to make the score 5-4. Anderson, however, didn't panic and was able to close the set out and win the match 7-5, 4-6, 6-4 and secure the 4-3 win for Marquette.
"You have to buy into the concept that you have to stay out there because anything can happen if you give yourself a chance," said Rodecap. "We hung around even with everything that was going on. We could have went away and chalked it up to it not being our day. Our guys did a really good job of not letting go. They stayed the course and were able to turn it."
The women's team opened its match with the doubles point behind a strong performance behind No. 1 duo Silvia Ambrosio and Erin Gebes, who defeated DePaul's No. 54 ranked doubles team 6-4.
In singles Ambrosio kept the momentum by winning her match 6-2, 6-4 over No. 77 ranked Yuliya Shupenia. At No. 2 singles Gebes was able to force a third set, but was unable to seal the victory, and at No. 4 singles Paula Tormos Sanchez had similar fate.
Both teams will start BIG EAST Tournament play Friday in South Carolina. The men enter the tournament as the Mo. 2 seed and will face Creighton, while the women will be competing as the No. 5 seed and will take on Georgetown.