Tennis teams still finding footing, each split weekend matches
Men's team competes outdoors for first time this season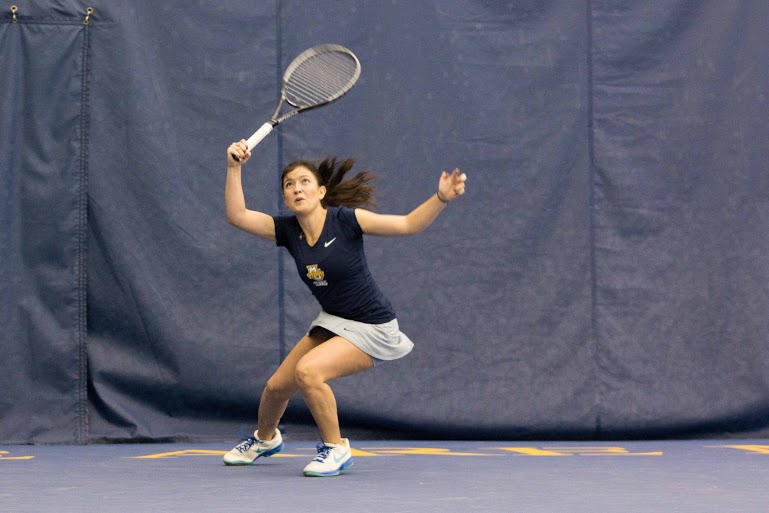 John Hand, john.hand@mu.edu
February 10, 2016
Both of Marquette's tennis teams took to the road last weekend looking to right the ship after disappointing matches. In Florida the men defeated Bethune-Cookman 4-1 Saturday, but fell to Florida Gulf Coast 5-2 Sunday. The women traveled to Iowa, beating Eastern Michigan 6-1 Saturday, before falling to Iowa 6-1 Sunday.
In Florida, the men's team faced the unique challenge of playing outdoors for the first time this season. Marquette was able to handily win the doubles point, but dropped four first sets in singles.
"Points are played a lot longer outside. There is a little bit of an adjustment period there," said men's head coach Steve Rodecap. "The good thing is that the guys never really quit and in the second sets they bounced back."
Nick Dykema made quick work of his opponent, winning his match 6-1, 6-3, while Alvaro Verdu was able to clinch the match for the Golden Eagles with a 2-6, 6-2, 6-2 victory.
Against FGCU, playing outdoors was once again a factor with high winds. One might expect these conditions to favor the home side because they are used to playing under such circumstances, but Marquette was able to win the doubles point with victories from first doubles pair Verdu and Daniel Fernandez, 6-2, and third doubles pair Kristiyan Trukov and Greg Anderson, 6-3.
"One thing I think our guys did an outstanding job of was handling the conditions. None of them were complaining about it," said Rodecap. "We jumped out in doubles and played really solid. We took the energy away from them early in those matches because we got up quickly."
In singles the Golden Eagles kept the momentum going by winning three first sets. The good fortune swung back FGCU's way in the second and third sets as they were able to win five out of the six singles matches.
As with the men's team, it was almost as if two different Marquette women's teams showed up in Iowa.
On Saturday the women's team got a well-deserved 6-1 victory over Eastern Michigan.
"We came out with a lot of energy and a lot of focus," women's head coach Jody Bronson said. "It was a very tough match. 6-1 wasn't really indicative of how hard fought that match was."
Erin Gebes was dominant, winning her singles match 6-1, 6-2 helping her team take five out of the six singles matches.
Sunday's match against Iowa was a different story.
"We struggled early and we mentally didn't fight hard enough," said Bronson. "We have to do a much better job of staying focused when things aren't going well to be able to get ourselves back in the match."
The lone bright spot for Marquette on Sunday was the singles play of senior Aleeza Kanner. After her 6-4, 5-7 (2) victory she is now 6-0 during the spring season in singles. Bronson thought she was able to set an example for the rest of the team during an overall tough match.
"In the whole scheme of things her match wasn't going to make a difference in the outcome of the team match, but she played like her match was the deciding match," Bronson said. "That is how everyone needed to come out."
Next Friday the men welcome Illinois-Chicago to Helfaer Tennis Stadium at 6 p.m., while the women's team will travel to Kalamazoo, Michigan Saturday to take on Western Michigan at 10 a.m.