Jesuits will move into new residence this October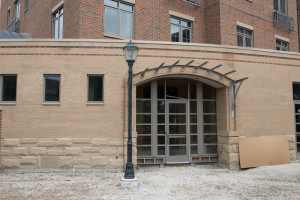 After breaking ground on a new Jesuit residence in August 2014, the Marquette Jesuits expect to move into the building over fall break this October, according to the Rev. Thomas Anderson, director of operations for the Jesuit Residence.
The construction team from KBS Construction is currently completing the building's chapel, interior finishes and exterior site work.
"The construction process was successful and much of the focus over the summer was on the interior build-out of the space," said Kathy Kugi-Tom, project manager in the Office of the University Architect.
The Jesuits had three opportunities to tour the new building: in May, at the end of June and on Aug. 18.
"The progress from the first to the third is remarkable," Anderson said about the tours. "The first time there weren't walls up."
The new residence will be accompanied by a recreation of Stuessi Garden, which is behind the old Jesuit residence on 1404 W. Wisconsin Avenue. The garden features a pond and abundant plant-life.
"We are reclaiming the stone that is used around the small pond and plan to use the same plant species in the new location, in addition to a few other familiar elements from the existing garden," Kugi-Tom said.
The new residence, located between Schroeder Hall and the Alumni Memorial Union, has 25 resident rooms and five guest rooms. The residential rooms are designed like suites – they have working, living and bedroom areas.
Anderson said Marquette High School's president and some of its teachers will join the Marquette Jesuits in calling the new building home.
Kugi-Tom said the old residence is slated to be demolished during spring or summer 2016.
"We make every attempt to schedule building demolitions and other major work on campus in a way that will be least disruptive to campus community," Kugi-Tom said.
Plans for the new Jesuit residence started in 2014 after an anonymous $10 million donation. The old residence was built in 1916 and was experiencing many maintenance problems, including flooding from a burst pipe in 2013.
"I am quite happy to have a new residence which will require much less maintenance and provide a floor plan that fits our community life better," Jesuit the Rev. Jeffrey LaBelle said in an email.
In the last year, the group of Marquette's Jesuits-in-residence was reduced to 25 people.
"There have been a lot of transitions," Anderson said.  "I think 19 people changed residence from here over the course of the last year. You realize we are a smaller group."
However, Anderson said he's looking forward to what the new space will bring to Marquette and the Jesuit community.
"I hope it becomes a vibrant proclamation of the Jesuit presence on campus," Anderson said.