Before he was vice president for student affairs at Marquette, Xavier Cole found himself dealing with a student death by suicide.
Added to the tragedy was extensive media coverage that garnered public attention.
"It wasn't just the tragedy that goes along with losing a young person in their prime. It was also a very public exposure of the incident for the family and the university," Cole said. "Any time, for the public, there's media interest in an event like this, it's a double-edged sword."
If a student dies by suicide at Marquette, campus administration enacts a system of communication. The Student Emergency Response Team includes communication between offices such as the Marquette University Police Department, the Office of Student Affairs, the Counseling Center and the Office of Marketing and Communication.
When a student died by suicide in the past, Stephanie Quade, dean of students and chairwoman of SERT, called each office to ensure they had the same information. Quade said notifying each office can be difficult because of relationships the student may have had with the staff members.
"In a situation where the department might've known the student and you're bringing them news of somebody that they might've worked with, that can be very challenging," she said.
"
There remains, for some folks, a significant stigma around suicide. Not everyone wants to say that's how their son or daughter died.
— Stephanie Quade, Dean of Students
The system kicks into gear right away.
"In (a past) situation, I got the call from the Marquette Police Department shortly after they had determined who the student was and that it was, in fact, a death," she said. "There's a whole bunch of offices on campus that have protocol responses, so part of my job is to get everyone else in motion."
MUPD Capt. Jeff Kranz said keeping administrators informed is important when investigating the circumstances of a suicide.
"Almost simultaneously, we make notifications to the university, people like Xavier Cole and Stephanie Quade, to alert them of what's going on," he said. "We get them the information they need in order to take the action that they need to take."
University administration works with the family to form press releases through the Office of Marketing and Communication. Quade said Marquette leaves it for the family to decide how much information they want to release.
"There remains, for some folks, a significant stigma around suicide," she said. "Not everyone wants to say that's how their son or daughter died. Our protocol has historically been that in the event of a suicide, we give the family the option to indicate that."
The SERT protocol is the same whether school is in session or not.
"We work very closely with the family to provide them with any support they may need," Cole said. "The main thing we try to do is reduce the burden on the family for details and take over as many processes as we can so they don't have to worry about it."
During the school year, Campus Ministry helps families with their spiritual needs after a loss. If a student dies over summer break, Campus Ministry has a staff member in place to act in the case of an emergency.
The Rev. Jeffrey LaBelle, a Jesuit and assistant professor in the College of Education, was on call representing Campus Ministry when a student died by suicide. LaBelle, Cole, Quade and faculty from the student's college met with the student's family.
"That was when we made sure they understood they had access to counseling services on campus and that kind of thing," he said. "We offered to do some kind of prayer service for the student, so that took place when the school year started."
LaBelle worked as a parish priest for 12 years before his time at Marquette and offered funeral counseling for grieving families. He said the role of a Jesuit during the period after a suicide is to support the family from a faith-based perspective.
"Even in this case where the family had been dealing with their (child's) difficulties for a while, whatever they were, they still deeply appreciated somebody to talk to," he said. "Someone who would listen, who wouldn't judge them, someone that understood these kinds of situations and would be available, I think people appreciate that."
After the university's immediate emergency responses to suicide, the Counseling Center meets with groups the student was involved in, such as a sports team or residence hall floors. The university also takes action to help the entire student body recover. Cole said Marquette's practices after a suicide are strong because they are centered around students.
"It's not something we hide from the community, it's not something we try to ascribe shame to," he said. "We should try after these episodes, in the education portion, to remove the stigma from reporting and encourage students to get help."
This story is part of the Marquette Wire's "Breaking the Silence" series to increase awareness and start dialogue about suicide in college. Read, watch and listen to more coverage here.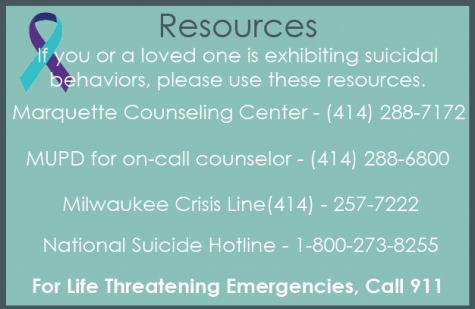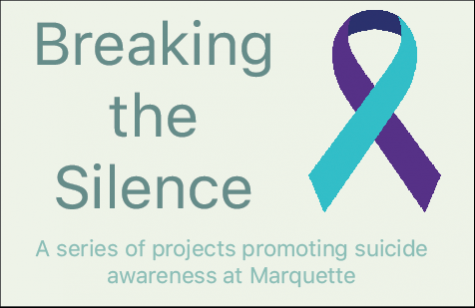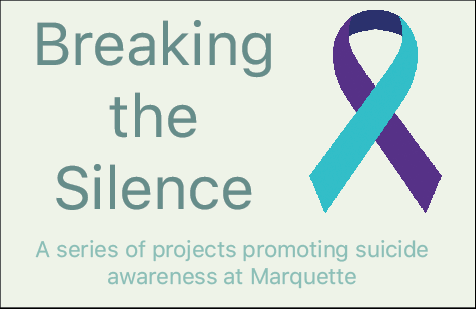 Graphics by Anabelle McDonald