Pizza Tour: Transfer Pizzeria Cafe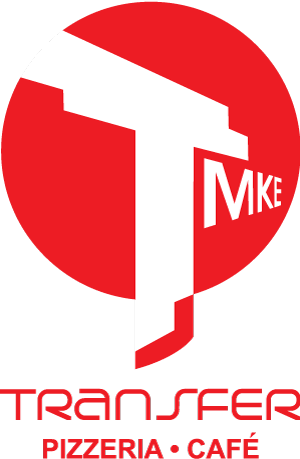 The invention of pizza really makes no sense.
Think about it: cheese, sauce and meat splattered on bread and thrown into an oven. Yes, it is weird, but it works. In a multi-issue series, Marquee is going on a search for the best pizza joint in Milwaukee. We are going to dissect restaurants slice-by-slice.
Sounds cheesy? Maybe. Greasy? Of course, but that's what pizza is about—a combination of ingredients that work together to create a masterpiece. Whether you like your pizza deep dish, stuffed with mushrooms, thin crust or supreme, finding the best pizza place is sure to be a worthwhile and, hopefully, delicious journey.
The first stop in our investigation is Transfer Pizzeria Cafe, located at 101 W Mitchell St. This restaurant offers the feel of a diner with its bar area, located conveniently in the front of the restaurant, and nicely finished wooden tables with candle light as accessories. Transfer is the perfect place to grab a quick bite or for a night out with a date. It offers a wide assortment of food, including pizzas based in pesto, garlic (which was recommended by our waiter) and tomato sauce, of which there are more than 40 options. It even offers gluten-free pizza for those looking to stay away from certain ingredients. Transfer also serves sandwiches, pasta and other traditional Italian dishes for anyone who wants to try something different.
Now that you know where to grab a slice or two, take a look at some of our reactions to the triangular entrees that we consumed during our trip to Transfer Pizzeria. Since it is our first stop of our tour, we found it necessary to set some guidelines and definitions for pizza as a whole.
What makes a pizza?
Lily: Crust, tomato sauce, cheese or other toppings. Anything else is just pizza-like, not true pizza.
James: A nice developed crust, tomato sauce, cheese and toppings which include pepperoni, sausage, green peppers etc. If there is not an adequate amount of sauce on the pizza, it is simply a breadstick with cheese and meat on it.
What kind of crust do you prefer?
Lily: I prefer to eat pizza with thicker crust. However, the crust can't be so thin that the sauce and cheese are the only thing you taste because you need a balance of all three.
James: I like thicker crusted pizza. I am not a huge fan of thin, but I prefer it over deep dish pizza, which is sometimes overwhelming. Although I live near Giordano's, Lou Malnati's and other deep dish pizza venues near Chicago, I have never fully come around to that idea of pizza.
Is there a thing as too much cheese on pizza?
Lily: Oh yeah. Again, you need a balance between the ingredients. Too much cheese makes it too salty and too greasy.
James: Yes. I do not want to fight the pizza I am eating. I just want to enjoy it.
What should the sauce to cheese to crust ratio be?
Lily: Probably one to one to one, but I like a little more sauce than maybe is normal for most people.
James: Equal parts. A little extra meat never ever can hurt though, especially if it is pepperoni or Italian sausage. There must be sauce though because eating a dry pizza is terrible. Moisture is necessary.
So do you think you should order by the slice or order the whole pizza?
Caroline: The whole.
Lily: I don't know. I'm torn. I think the whole. But it's really weird, but there's this one pizza place where I prefer their pizza by the slice. For some reason, if I eat it from the whole pizza cut into squares, it's just not as good.
James: Why do you think that is?
Lily: Hmmm, I don't know
Caroline: Maybe it's the size. Because when you eat the little squares of pizza, you're going to eat more, because you're like, "Oh, I'm eating such a small amount." But with triangle pieces, it's like you eat one piece, and you're satisfied.
If a pizza does not have tomato sauce, is it pizza?
Lily: (I said this before), but not really. It's pizza-like, inspired-by-pizza, pseudo-pizza. But if I'm craving pizza, I'm craving tomato sauce-cheese-crust combo, not anything else.
James: No. Pizza must have a tomato sauce or it is just flatbread with a couple of ingredients. That is almost like saying, "Is a hamburger legit without the two buns?" You need the parts to make the whole. Really.
Overall thoughts on Transfer Pizzeria Cafe?
Lily: I thought it was pretty good. The crust is too thin for me, but their specialty pizzas and nontraditional pizzas are really well done. Traditional pepperoni was somewhat disappointing.
James: I enjoyed the "Da Vinci" pizza, except for the feta cheese and large tomatoes that were not needed. The traditional pizza was not amazing, but it was still pretty good. I guess since I have eaten pizza so much in my lifetime it was hard to not compare the traditional pizza with past experiences. The garlic sauce pizza was by far my favorite, and part of it might have had to do with it being unfamiliar and new. Transfer's vibe is a huge bonus, especially with the live music. I love how it can go from a stop and go kind of place to a sit back and relax environment within minutes.
Where should Marquee go next? Tweet us your favorite pizza joint at @muwire_arts.
Leave a Comment