REVIEW: Papa John's v Domino's
It's 11:30 p.m. on a Saturday. You're hungry, but the doors of The Commons are closed. Not a McSchroeder burger nor a Cobeen quesadilla can be found. Will you go to bed with an empty stomach? Will you wake up with an unquenchable thirst for a Marquette dining experience? No, you won't, because you order pizza. 
Domino's and Papa John's are two American pizza joints that have been stuck in a never-ending food fight encompassing a lifetime of cheese, sauce and bread. Every Friday, humanity must ask itself the ultimate question … will it be one, or the other?
It can be hard to make this decision, especially when there doesn't seem to be a discernible difference between these two fast-food pizzerias. And, although, many would say that "pizza is pizza," I'm here to tell you that the contrast is night and day. 
To me, a Domino's pizza is superior in almost every way. When eating Domino's, I think it's important to remember that it's not going to blow your mind. I'm a fan of bad food that tastes good, and I think Domino's does that well. For what it is, I respect the hustle.
In my experience, Domino's runs a tight ship. My pizza has never been missing and I've always gotten what I asked for, especially at 719 W. Wisconsin. 
At Papa John's, the pizza just isn't good. Stale crust, minimal sauce and tough cheese are the things you'll remember about eating there. And, that's if you can even recall the mind-numbing ordeal that is ordering and eating a Papa John's pizza. 
It starts with getting the food. You receive an email that says the order is ready in 15 minutes, so you walk over in 10.  Although, upon arrival, you'll be struck with a waiting period that would make any sane person ponder the meaning of time. It takes more than 15 minutes.
Eventually, you ask if your pizza is ready. A simple question, one would think. Although it's not simple, because your pizza isn't ready. It was never going to be ready. The concept of your small pan pie did not even exist. Whose fault this is? No one knows, but you're still hungry. 
They start your order. Another 15 minutes. Another 15 minutes. You're hungry, impatient and baffled. Where could this pizza be? No one knows. 
Eventually, you ask again about the pizza that you ordered over an hour ago. And that's where you find out what's so funny about this whole situation. Your pizza is sitting on the counter. It was there the entire time.
Wait times, cold pizza, stale crust and congealed cheese permeate the Papa John's experience. "Better ingredients, better pizza" is not what you will get when you eat at this establishment. Do anything else with your time and money. Go for a walk, call your parents, study for an exam. Anything is more productive than waiting for cold pizza in a dimly lit and mysteriously wet Papa John's. 
At some point, if you do find yourself hungry on a Saturday night, I urge you to make the right decision. If The Commons is closed, if Schroeder has shut its doors, don't go to Papa John's. Pick a side in this pizza war, there's no room for objectivity in a battle of sauce and cheese.  
Make the right choice. Grab some Dominos. 
This story was written by George Kane. He can be reached at [email protected]
Leave a Comment
About the Contributor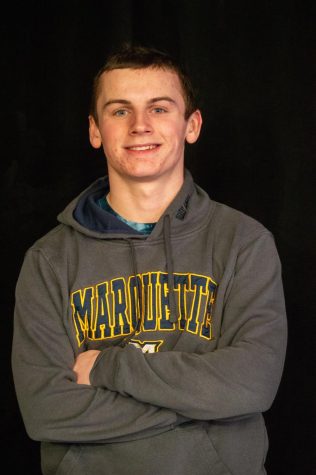 George Kane, Arts & Entertainment Reporter
George is an Arts & Entertainment Reporter at the Wire. He is a first-year from Trumbull, CN studying digital media.

In his free time, George enjoys...