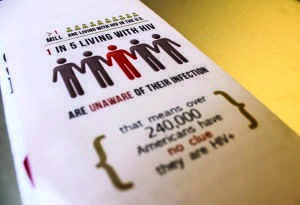 Although there's been a 35 percent increase in the number of students getting tested for HIV at Marquette's medical clinic from 2013 to 2014, campus initiatives are working to get more people examined.
According to the National College Health Association's spring 2012 survey, 15 percent of Marquette students were tested for HIV compared to 25 percent of college students nationally.
"While the number of MU students getting testing has increased over the past year, the overall percentage of students being tested is relatively low," said Dr. Carolyn Smith, executive director of the Medical Clinic, in an email. "This low percentage may be attributable to a lack of awareness that testing is available on campus, the cost of testing or the lack of perceived need for testing."
The Gender and Sexuality Resource Center, Medical Clinic and Mission and Ministry are working on different fronts to increase awareness about sexually transmitted infections and healthy sex lives.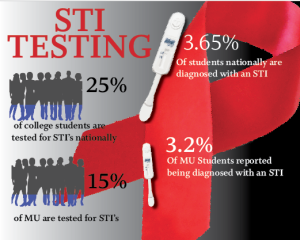 "People who study sexual health and sexual behavior generally find that if you are able to have more transparency and open dialogue about sex and sexuality, then people's health outcomes are better," GSRC director Susannah Bartlow said. "The general finding is that the more openly we talk about sex in a healthy productive way, the healthier people's bodies and minds and spirits are in their sexuality."
Bartlow works with people across campus, including Mission and Ministry, to encourage an open dialogue about sexuality so community members feel more comfortable with the subject. The GSRC will host a community lunch focused on sexual health and wellness in late March.
"I think it would be great for students to have really frank conversations about their experiences, their stories, what they need, where they should go and have that really open dialogue," Bartlow said. "I think it can be really challenging but we can do it."
The Medical Clinic is continuing sexually transmitted infection awareness following its third annual week of free testing for World AIDS Day last December, removing the financial barrier for students. The clinic also educates students and has awareness campaigns including the Get Yourself Tested Campaign in April.
A survey conducted by a Feminist Philosophy class and the GSRC in the 2012-'13 school year found that 81 percent of Marquette students said the university did not allocate enough money toward preventing and educating students about STIs. Sixty nine percent said people who have or had STIs were viewed negatively at Marquette.
Though there has been an increase in advocacy, the stigma surrounding STIs is why the Medical Clinic wants to make getting tested as simple and confidential as possible.
"As part of our mission we are committed to advancing the overall health and well-being of our students and to providing the highest quality of care to our patients," Smith said in an email. "We strive to provide service in a courteous manner, treating each patient with dignity and respect and are accepting of all people regardless of gender, sexual orientation or socio-economic status."