Susannah Bartlow spent almost three years at Marquette fostering conversations about gender and sexuality among students, faculty and staff before the university dismissed her.
She was the director of what used to be the university's Gender and Sexuality Resource Center, tucked away on the fourth floor of the Alumni Memorial Union. The university dismissed Bartlow following the creation and prompt removal of a mural of Assata Shakur. Shakur, an African-American activist and convicted murderer, became the first woman in history to be placed on the FBI's Most Wanted list following her escape to Cuba from prison. The mural was created by members of the Alpha Kappa Alpha sorority, and sparked controversy and media attention from major outlets such as the Washington Times.
"The official reason given was that I was fired for poor judgment and poor communication about the mural," Bartlow said an in email.
Bartlow said the controversy surrounding the mural affected how faculty discussed gender equity issues.
While at Marquette, Bartlow served beyond her professional capacity as a member of the Committee on Diversity and Equity, urging conversation about different gender equity issues on campus. Such issues include the gender pay gap.
In 2015, salaries for top-ranking male professors at Marquette averaged $122,000. Salaries for female equivalents averaged $104,500. The gap increased by more than $9,000 since 2011, according to data from the American Association for University Professors (AAUP).
For other professorial positions however, the gap is significantly reduced. Average salaries for associate professors averaged $88,400 for male faculty and $85,800 for female in 2015. The gap has reduced by $2,700 since 2011. For that reason, there are some faculty members on campus who dismiss the gap, or claim it to be understandable or justifiable.
In response to seeing the 2015 numbers of average salaries of top-ranking professors at Marquette, suspended political science professor John McAdams said he was not sure if there is a gender related pay gap.
"As an attempt to prove gender discrimination, that number is completely bogus," McAdams said.
Despite the different views, Bartlow said that gender-related controversies – like her own – can make discussing the gap more difficult.
Before the mural controversy, Bartlow said she thought other faculty members were unnecessarily exaggerating the fear of jeopardizing their career in order to speak up about the gender pay gap.
"Whatever is going on with people as far as their salary and their lives, one of the biggest considerations is, 'Is my fear proportionate to the risk?'" Barlow said. "That's one of the things that the mural really exposed because for a long time I thought that people were blowing their fears out of portion and I found out that that's not true."
Painting the Whole Picture
To address issues surrounding gender equity issues, including the gender pay gap, former Marquette University President Rev. Robert. A. Wild created The President's Task Force on Gender Equity. It analyzed gender equity issues for more than two years before publishing a summary in Jan. 2001.
The resulting report said gender did not affect salary growth while employed at Marquette, but did impact where professors were starting out.
Peter Toumanoff, former subcommittee chair of the task force and associate professor Emeritus of Economics, said there are reasons that could explain the gap.
"There are explanations for (the gender pay gap) that aren't necessarily grounded in discrimination," Toumanoff said.
Jean Grow, chair of the Committee on Diversity and Equity and strategic communication professor in the College of Communication, agreed. She said there are two main reasons that explain the gap.
"The first one is that within certain disciplines you get paid more," Grow said. "So for instance, in the College of Communication relative to other fields you get paid less, whether you're male or female." Grow said the higher paying disciplines are often dominated by male faculty.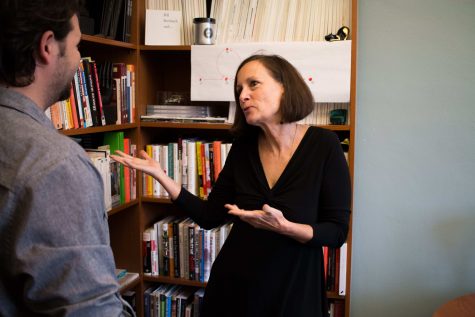 Toumanoff estimated the unequal gender distribution among different disciplines could be due to skill differences.
"'Why do women choose female dominated occupations?' and the answer is because their particular set of skills are more highly rewarded in the female dominated occupations than in the male dominated," he said. "It's a difference in skill set and rewards."
The second reason is what Grow called salary compression, meaning difference of salaries caused by inflation, where new employees earn more than the previously employed and more experienced employees.
Toumanoff said that salary compression can help to reduce the gap because employers are pushed to offer the same, if not more new hires.

Regardless of how the gap has been analyzed and understood, Dawne Moon, associate professor of Sociology, said it can be difficult to question the gap because of gender related issues–like Bartlow's mural controversy.
"At Marquette there's a history of people being attacked for aligning themselves in various ways with feminism or for challenging various forms of gender or sexual inequality," Moon said.
Let's Talk About It
In addition to what happened to Bartlow, there have been other gender-related controversies that have influenced the dialogue around the sensitive issue of the gender pay gap.
"There are faculty who've been around for 30 years who, every time things would seem to be getting better there would be another one of these catastrophes," Moon said. "Some say one such catastrophe happened last year."
John McAdams, a professor in the College of Arts & Sciences,  filed a lawsuit against the university after he was suspended because he disagreed with university action taken against his decision to publish a post on his blog "Marquette Warrior" in 2014. The post criticized an exchange between Philosophy Teaching Assistant Cheryl Abbate and a student in her class about a classroom discussion on the ethics of gay marriage.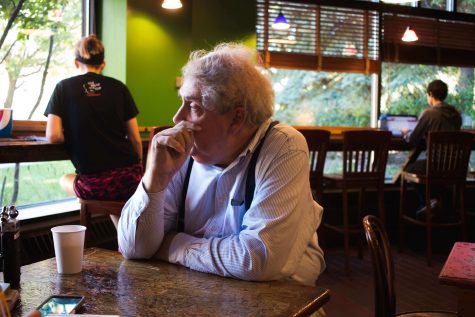 McAdam's ongoing case with Marquette impacts the conversation on gender equity and the gender pay gap, Grow and Moon said.
Moon said that McAdams's case can negatively impact the broader campus discussion on gender equity issues, including the gender pay gap.
"People would say, 'Well of course John McAdams shouldn't be targeting undergraduate students the way he does or unleash massive harassment against a graduate student, but he does have a point that this is a Catholic institution,'" Moon said.
Grow disagreed. She said she thought that the university's attention to the case positively affects the discussion on the gender pay gap.
"I think in a sense that would make someone like me feel like I could more freely talk because the university is going to support people being treated equitably," Grow said.
McAdams said he did not think his case has any significant impact on the dialogue surrounding the gender pay gap at Marquette.
"Marquette is very politically correct," McAdams said. "Now here's the essence of political correctness: any demand made on behalf of a politically correct victim group must be immediately embraced."
McAdams said he was not sure Marquette would be able to initiate substantial change to solve any issues regarding pay disparity. One university effort to promote wage equity is to provide individual raises to faculty who they deem unfairly paid. The dean of each college annually reviews individual salaries and send recommendations for a raise to the provost. Grow, along with the Committee of Diversity and Equity, reviews any salary changes with the provost each May.
The raises do not factor in any underpayment for years worked prior, which is problematic because it means that there is less contributing to their retirement fund, said Moon.
To McAdams, who is still quick to question the existence of the gender pay gap at Marquette, the aim of the practice is questionable.
"Marquette might try to buy off claims of gender unfairness by giving a bunch of women raises," McAdams said. "An interesting question is: 'Were the raises justified or were they just bought off?'"
For others, the university's progress is more apparent and genuine. It could even be why people are talking about the gender pay gap less, Grow said.
"I think that the university has been pretty forthcoming in its attempts to rectify (the gender pay gap), which I think is demonstrated in the really slim difference between men and women at the associate level," Grow said. "Maybe that has truncated, for good reason, some of the discussion because there is some good work being done."
Lisa Mazzie, a professor of Legal Writing at the Marquette Law School, said that she personally is not affected by the gap because she is one of six individuals with her job status. Until recently, Mazzie said that all of those individuals were women.
Despite progress made, Mazzie said there should still be the presence of the gender pay gap discussion.
"If a woman is getting paid less than a man to do the same job and she senses it or knows it, I think that it affects her in the sense that she may feel not as valued of an employee," Mazzie said. "I think it just normalizes for students that it's okay."
Bartlow said the gender pay gap has rippling consequences that affect students.
"It robs (students) of the opportunity to learn from the best," Bartlow said. "It robs them of the opportunity to achieve their best because they lack diverse and excellent role models who are compensated for their labor."
While Grow said that the gender pay gap may not be as significant of an issue currently, she, along with the Committee of Diversity and Equity, still continues to discuss pay equity in their more recent report.
But in the eyes of Bartlow and others who see the gender pay gap as a current issue, the conversation should be more center-stage–even if it is not an easy conversation.
"I think we can do better and I think we have an obligation to do better," Bartlow said. "And I think that if we don't do better, it's just going to get worse."