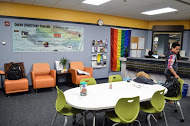 The LGBT resource center is still searching for a new coordinator to take over leadership since it became an independent center under the Division of Student Affairs in August.
"We are in the process of hiring Marquette's very first LGBT resource coordinator," said Eva Martinez Powless, director of the LGBT center and the Center for Intercultural Engagement.
Powless said there is no set deadline to select a coordinator. The search began in September.
Powless will still have an active role in the resource center, but will not serve as director once a new coordinator is chosen.
Story continues below advertisement
"We want to make sure that we have the right person in place to be able to create that foundation for LGBTQ services and programming," Powless said. "So if (the search) takes us the whole semester, then that's how long it takes us."
The search committee consists of six faculty members, including Powless; Jennifer Maney, institutional director for The Greater Milwaukee Catholic Education Consortium in the College of Education; Mike Zebrowski, counseling center director; Caitlin Wozniak, coordinator for New Family and Orientation Programs; Kelly Walker, community service coordinator, and Bianca Howell, intercultural engagement coordinator.
"It is a tough position to fill," Howell said. "It is hard to find someone with the background of working with students in this way and a solid understanding of our Jesuit mission and identity."
Howell said for the search committees, they reached out to groups that will work with the coordinator to make sure each had a representative.
A student search committee is also in place to offer a student perspective on the matter. These students will work directly with the new coordinator.
The committee includes Manny Hurtado, a sophomore in the College of Arts & Sciences and president of the Gender and Sexuality Alliance; Josh Miles, a sophomore in the College of Communication and member of MUSG Social Justice and Diversity Committee; Michaela Bear, a junior in the College of Arts & Sciences and member of the Jewish Student Union; Marina Arias, a senior in the College of Communication and intercultural engagement assistant, and Meredith Kuhn, a senior in the College of Arts & Sciences.
"I think it is very important for there to be new, fresh energy on campus to reinvigorate the center," Bear said. "It is important to have someone new with new ideas who is ready to increase acceptance of LGBTQ students on this campus."
Both committees are focused on finding a coordinator that fits best in the resource center.
Powless said when hiring a coordinator, she is trying to get a feel of whether or not that person is a good fit within different Marquette communities and if they can influence positive change.
"We have done some interviews but have reopened the process," Powless said. "We do not have a finalist yet."
At the start of the 2015 school year, Marquette's Gender and Sexuality Resource Center split into two departments: the LGBT resource center and the Center for Gender and Sexualities Studies.
When the split occurred, Powless sat down with Provost Daniel Myers to discuss what resources they wanted in the new LGBT resource center.
"We decided that we needed to have a full-time staff member," Powless said. "There is a big difference between having a lounge and a space and having a staff member dedicated to services and programming for the LGBT community."