Students conduct Solidarity 'Die In'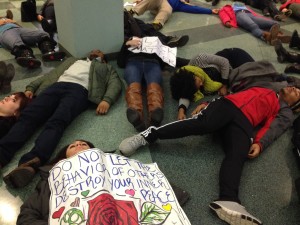 Marquette students joined several other colleges and universities across the nation by conducting a "Solidarity Die In" Monday to peacefully protest against police brutality towards people of color.
Students, some carrying signs, marched up to the Alumni Memorial Union's second floor around 11 a.m. and laid on their backs throughout the area, while members of the Department of Public Safety stood by. Phrases on the signs included "I'm tired of being racially profiled on campus" and "I am a REAL Native American, NOT  a MASCOT."
After about 10 minutes of lying down, the group stood up and listened to a speech from Nate Hamilton, whose brother Dontre was shot to death while unarmed by the Milwaukee Police Department earlier this year.
"What (Marquette students) have is the power," Hamilton said. "You're getting an education, you're getting an understanding and you can learn about the system and how it works. It has been broken for hundreds of years. We have been stripped of humanity and we need to get it back. The Coalition of Justice has set out and said that we are not going to quit, we are going to show resistance against injustice."
DPS Chief Paul Mascari was also in attendance as students laid on the ground.
"Our students have the right to speak out peacefully about important issues as they did so today," Mascari said in an email. "Our DPS officers currently undergo extensive diversity and cultural awareness training – significantly more so than is required of many police officers. We are always reviewing the best ways we can improve overall awareness and cultural sensitivity training, and we will continue to do so."
The "Die In" happened a few months after Michael Brown, an unarmed black teenager, was fatally shot by Darren Wilson, a white police officer, in Ferguson, Mo. Wilson was not indicted for Brown's death.
"We're trying to relate the national event to campus," said Ella Davis, co-organizer of the Die In and junior in the College of Health Sciences.
Once Hamilton finished speaking, the group went outside and marched around campus, singing chants including "Tell me what democracy looks like, this is what democracy looks like" and "Hands up, don't shoot."
Leave a Comment