Women's basketball falls to Lewis in exhibition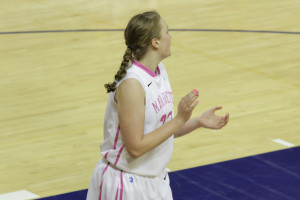 The Marquette women's basketball team fell to Lewis 75-72 in an exhibition game before the Golden Eagles' home opener Nov. 15.
In a game where senior Arlesia Morse, sophomore McKayla Yentz and freshman JaTaun Rouse did not suit up, freshman Kenisha Bell lead the way with 23 points. Bell hit timely shots for Marquette, including a three-pointer to pull the Golden Eagles within one with just 8.4 seconds left. But the Flyers iced the game by hitting two free throws and senior Chelsie Butler chucked up a buzzer-beater, but it fell short.
Also contributing for the Golden Eagles were senior Apiew Ojulu freshman Tia Elbert with 13 points, and redshirt junior Lauren Tibbs with 10. Tibbs and Ojulu registered double-doubles in the effort, as Tibbs had a team-high 13 rebounds and Ojulu followed close behind with 12.
Marquette benefitted from shooting well from behind the arc in the first half, as the team posted a 42.9 three point percentage. The team rode that to a 37-33 halftime lead. However, Lewis would battle back and shoot 50 percent from the field, while Marquette only shot 25 percent. The poor shooting half, paired with the short bench, ended up dooming the Golden Eagles.
Lewis, ranked 9th in the Division II rankings, has now defeated Marquette, Loyola-Chicago and Northern Illinois to start the season. Coach Carolyn Kieger and the Golden Eagles will look for their first win of the season when the team hosts Green Bay at the Al McGuire Center Nov. 15. Tip-off between the teams is at 1 p.m.
Leave a Comment