Marquette looks for composting services after ending Growing Power partnership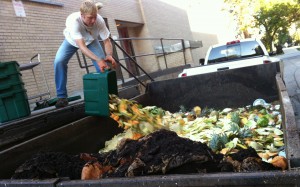 Marquette is searching for a service to handle its campus-wide composting after it ended its partnership with the Milwaukee-based Growing Power this spring.
Rick Arcuri, director of business operations and auxiliary services, said the partnership was ended because Growing Power, which used to pick up Marquette's composting at no cost and turn it into soil, wanted to start charging to pick up Marquette's waste.
"(Growing Power) said that they were going to start charging $50 a stop and we have 7 stops and they came 2 times a week," Arcuri said. "And so we couldn't afford to keep working with them at that price point."
A representative from Growing Power stated in an email that the company began charging for their services to cover the costs affiliated with picking up compost, like paying for fuel, vehicle maintenance and labor.
Marquette has yet to find a composting replacement for Growing Power and returned to disposing biodegradable food waste with other garbage in the interim.
In fiscal year 2013, Marquette composted about 20.6 tons of waste, according to Marquette's Office of Sustainability. To put that in perspective, though, that's about 1 percent of the 1,925 tons of waste Marquette produced in that year alone.
There are possible solutions on the horizon, though.
Arcuri said Sodexo is already talking with three different groups to work out a deal for composting. He said Marquette already recycles its oil waste through a company known as Sanimax, which turns animal fat waste into grease, oils and tallows.
Students, too, have offered solutions.
"We have been approached by (Students for an Environmentally Active Campus) and they have provided us a contact point with Alice's Garden that is just north of us because they are interested in picking up here," Arcuri said.
Andrew Terenzio, a senior in the College of Business and president of ChangeMakersMU, also offered a possible solution. He reached out to representatives at the Potawatomi Hotel and Casino, which recently built an anaerobic digester.
The digester converts food waste from Potawatomi, almost like a mechanized digestive track.
"Using this solution, we could decrease the amount of landfill food waste even more so than from composting," Terensio said in an email. "The short distance across the valley is also better for the environment then the drive to Growing Power."
Additionally, Terenzio said he thinks Potawatomi can handle the large mass of waste Marquette produces, which Arcuri points to as one of the challenges associated with finding a new partner.
"We are looking into costs now as well as who can handle the volume of food waste we produce," Arcuri said. "We are looking for someone who can manage what we produce in a way that is beneficial to both them and us."
While Marquette has yet to enter into another composting partnership, Arcuri said he is confident the infrastructure is in place for a quick and easy transition.
"If we could work out a deal with someone to pick it up, we could start up again tomorrow," Arcuri said.  "It's just a matter of finding the right partner to do that."
Leave a Comment